UN Le US Nih ISIS An Hloh Bantukin Min Aung Hliang Hruaimi Ralkap Hi An Hloh Lai
Ram pumpi nih thate in Civil Disobedience Movement a kal ko ahcun Ralkap sermi "State Administrative Council" hi a function kho lai lo. Ralkap nih an sermi State Administrative Council ahhin Min Aung Hliang cu amahte in chairman ah aa thim colh i, committee members ah Ralkap 8 le civil 8 tiah a thim hna i, mah committee ahhin civil minung paoh cu itel lo ding a si lai.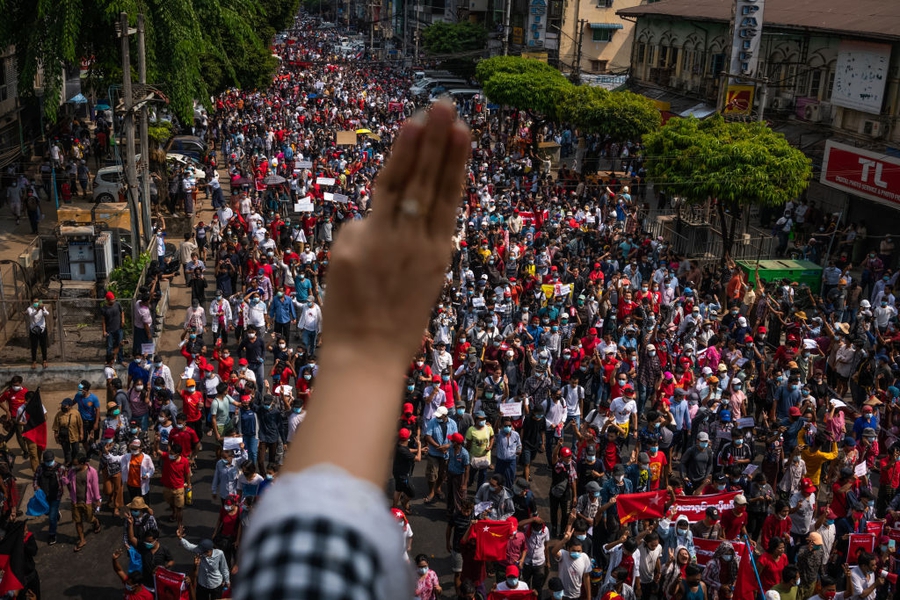 State Administrative Council ( SAC ) hi terrorist organization ISIS bantuk an si i, Mipi ralchanh in sermi committee a si. Mahbantuk committee ah aa telmi paoh cu a pawca lawng ah a ruatmi Mipi dotu an si ve caah an tuanbia cu an te chin fapar chan tiang sualphawt in chim zungzal an si lai.
Cucaah UN le US nih "Islamic State" tiah an claim tu ISIS pawl an hloh bantuk in Ralkap sermi State Administrative Council hi a fail khawhnak hnga an i zuam i, Mipi zong nih fakpi in an doh ko caah Ralkap semi SAC hi a fail hrim hrim lai. SAC ah riantuan dingin Ralkap nih an sawm hna i, a cohlangtu vialte hi Rian hrim hrim an ttuan manh te lai lo. Rian an i awt taktak hlan ah SAC hi a lo colh tthan lai.  Cucaah a function lo dingmi SAC ahhin itel ding hrim a si lo. Civil Disobedience. Save Myanmar Peaceful Protest. Fight-For Freedom. Cattialtu: By Zasang Cinzah
Relchih: Miphun lungrual Caan/ Time to be united! Naite ah ziah MPs le politicians vialte nan daidep! Tubantuk caan ah nan ithup tiah ka uhttanh tuk hna hna caah fakpi in ka zai hnawh hna. "Kan dailo hrim lo e. Kan si khawh tawk tein kan cawl cio ko" tiah an ka ti. Nizan ah Hakha lei ka chawnh hna i upa tampi nih sandahpiah an telpi hna timi zong ka theih.
Kawlram ah a tthawngbik hi Ralkap an si naisai lo. A thawngbik cu "Mipi" hi kan si. Kawlram ah millions 54 minung ka um i, cu chung ahcun Ralkap cu 350,000 hmanh an tling lo. Milu tlawmte, ralkap lu-bo Min Hlaing le Than Shew tbk nih a thawngbik millions mipi an uk khawhnak cu mipi pawl kan lung aa rual lo caah a si.
Cucaah Ralkap nih Mipi lungrual lohnak hi an thazaang a si i, cucu an hngalh tuk. Cucaah divide & rule system hi hriamnam ah an itlaih peng rih. Tutan Aana- an tingmi zong ah a rannak in Opposition Party paoh an sawm colh hna. Hriamtlai phu NCA an sawm colh hna. NLD le Mipi karlak ah itthennak an tuah. NLD le tlangpar Party vialte karlak ah idannak thlaici an tuh colh. Hriamtlai vialte nih NLD le Mipi hnulei in an dir lonak hnga an lem colh hna.
Cucaah tutan ah a biapi bik in hngalh a herhmi cu Ralkap nih Kawlram mi millions 54 renglo kan ifun dingmi hi an ttih tuk. Cucaah kan lung aa rual lonak ding a phun phun in propaganda an tuah lai. Mipi nih CNF/CNA kan in hlam hna tikah Mipi nih an kan bochan tbk in ruat u. MPs le Politicans nan dai e, nan ithup e kan in ti hna tikah Mipi nih an kan bochan caah tiah ruat u! Tutan lio caan hi lungrual caan a si.