Trump Nih US Mipi Sinah Thawngthanhnak A Tuah Nain Amah Tuah Ai Tim Lo
US President Trump nih cun Centers for Disease Control and Prevention (CDC) hna nih ruahnak an pek bangin a ramchung mipi hna cu leng an chuah tikah hmaihuhnak (mask) hman cio le i vuah cio dingin thanhnak a tuah hna. Asinain amah pumpak in cun hi hmaihuhnak hi hman kan tim lo tiah a chim chih.
US President Trump nih cun a ramchung mipi hna cu kut in sermi hmaihuhnak (hand-made mask) maw siloah, hngawngngarh (Scraves) hman dingin thawngthanhnak a tuah hna i Medical-grade hmaihnuhnak cu sizung i rianṭuantu hna caah chiah dingin a chim chap.
Trump nih a chimmi cu " Hihi mah pumpak duh thimnak a si ko. Hramhram in hman hrimhrim ding kan in ti hna lo i, keimah zong hman ka tim ve hlei lo. Asinain mi cheukhat nih cun fial hau loin hman a duh ko mi zong an um cucu aṭha ngaimi thil a si ko," tiah Trump nih cun a chim. Chirhchan: BBC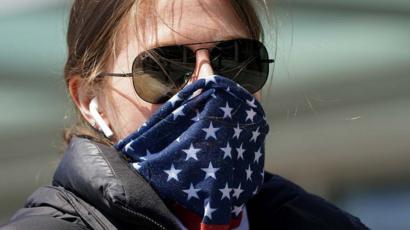 Thawngpang dang rak rel chih: Prepare for the Worst! Covid 19 a karh a rang ning hi Zinaan/gas toihmi mei kangh in a kangh ko. Vawcung ram rumbik timi hna hmanh an daitlang sual caah i an iveng kho ti lo. Vawlei cung kakip ah a ummi Chin Community Kip nih "Hope for the Best, Expect for Nothing, but Prepare for the worst" timi Moto hi itlaih in Covid 19 nih a kan phak sual ah tiah ready ngai in kan um cio a herh. Abik in India le Malaysia ah Chin community kha nan biapi khun. NGOs le UNHCR lawng bochan ding a si lai lo. Thil pakhat khat a caan sual ah tiah a lamkip in timhcia tein um khawh izuam ko u.
Cun, kan theih cio bantuk in Covid 19 hi Kum upa cangmi caah ttih a nung khun. Kum upa cu an thi thluahmah ko hi mu. Cucaah, kan nulepa le community ah Kum upa hna kha, "High Risk" an si caah, Mino/fale hna, kan nulepa caah thihnak phaktertu kan si lo ding a biapi tuk. Nan chungkhar ah virus luhpi tu nan si lonak hnga Your "Stay Home" safe your family! Kan community ah Covid 19 nih a kan phak cio nak hnga lo- alert ngai in leaders pawl um a herh. A kan phak sual ah zeitindah kan itawlrel lai tbk zong church kip le community kip nih pre-plan ngeih cia a tha.
Lai tuanbia zoh tikah "Pul ah an thi dih" tbk kan tuanbia ah a um. Cucaah, Lairam hi pipu chan ah Covid 19 bantuk virus nih a rak phak bal ko hna ti a fiang. Cucaah, Lai Ram khuate kip nih anmah tein an ivengmi kha a tha tuk. Khua khat le Khua khat itlawng lo ding an phih ciomi zong a tha. A herh fawn. Cuaah, Covid 19 nih Lairam a phak nak hnga lo kan dihlak ttuanvo a si.
A herh tukmi khual tlawng ding nan um ahcun riah-cawh ifun a tha. Ti iken a tha. Palmi khua chung luh loin hrial a tha. Ram lakah riah a tha. Khua te lei ei-din supply laknak kong ah mahte cio in izarh loin Khuabawi pawl nih ttuanvo lak chung rih a tha. Credit: Zasang Cinzah