Suu Kyi Nih Gambia Cu A Vun Phomh Hoi Cang Hih
ICJ i Aung San Suu Kyi Biachimmi Dihlak. December 11 i ICJ Netherlands hmaika i a ni hnihnak a vung chuah lio. Mr President le Court memebers vialte hna nan cungah kai lawm. Myanmar aiawhtu le Union Minister of Foreign Affairs dirhmun in nan hmaika ka hung chuah hi kai lunghmuihpi ngaingai. Myanmar ram bantukin chawva lei in a derthawndeuh ngaimi ram caah cun hi nan World Court hi vawleicung pumpi biaceihnak kongah kan i dornak nganpi a si. Hi Court pi nih hin international law phung zulh in siseh, cun a dangdang hnatlaknak tuahmi tete hna phung zulh in biachahnak nan tuahnak lai ka duh. Cucu Lungtlinnak a Tuahtu UN zung zong nih a duhmi te a si.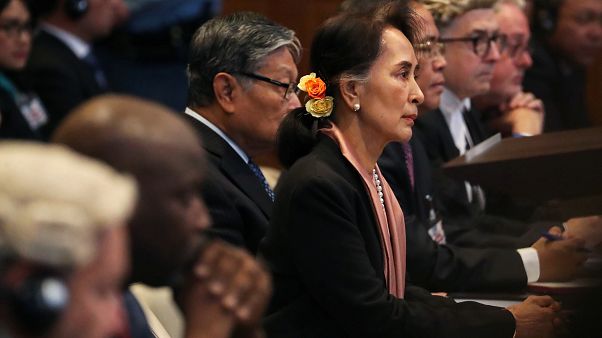 Nihin kan tonmi kongah hin, 1948 Genocide Convention phung le lam zul dingin Court sinah nawlnak tuah a si cang. Cu phung cu i tu kan chan i kan i hman chuahmah lio mi lungtlinnak phung tampi lakah pakhat ai tel ve mi kha a si ko. 1948 Genocide Convention phung le lam hun i hman i a biapi ngaingai mi a si. Europe ah a ummi Judah mi minung million 6 thah le nawn an si hnu ah hi Genocide Convention phung le lam hi tuah hramthok a si. Ka ram Myanmar zong nih hin 1949 December 30 bakah lungtlinpinak minsen kan rak thlut colh ve kha nan hngalh cio ko lai dah. Cu hnu ah 1956 March 14 ah khan namhneh thannak kan rak tuah bal. Rwanda ah khua a sami Tutsis miphun lakah then 70 tluk hrawng hi thah dih an rak si ruangah Genocide an tuah a si ko, tiah International Criminal Tribunal for Rwanda nih biachahnak an rak tuah bal. Asinain 1999 lio ah Yugosolavia i Kosovo ah khua a sami minung 1 million hrawng an umnak chuh le thawldawi an si lio belte ah khan cun Genocide tuah a si lo tiah biachah a rak si. Cun 1995 lio i Croatia ram in Serb miphun pawl thawl le dawi an rak si zongah khan Genocide ah nan pompiak lem hna lo khah.
A cunglei tuanbia pahnih kongah, minung thah le nawn ngaingai a um lo caah, hihi cu Genocide ah kan pom kho lai lo tiah bia nan rak chah. Ngaihchia a si mi cu, Gambia pawl nih hin Myanmar ram chung Rakhine State ah a cangmi thilsining hi ningcanglo piin a sining an tawn i, cucu Court ah an rak chuahpi. A biapibik a si mi cu, hi Court nih hin ning le cang tein le dikfeltein Rakhine vawlei ah vung kal in thilsining dothlatnak nan tuah awk a si. Rakhine i thilsining hi a hnoksak ngai i fian a fawi mi a si lo. Asinain kan dihlak caah ngaihchia a si mi pakhat cu a um ve taktak ko e: 2016-2017 lio i umnak hmunhma chuahtak in zaam le thuh lawng a rianmi, Cox's Bazar ah buk sual in khua a sami sualnak ngeilo mipi hna hi cu zaangfak an si ngaingai ko.
Mr President le Court upa pawl hna, Rakhine State i buaibainak hi kumzabu tampi tein khan ai thok cang i, kan hnung kum tein khan a hung linsa khun ceu khi a si. A tu bak ah hin, ramchung in hriamtlai pawl heh tiah an i kap cuahmah ko – AA (Buddhists an si i minung 5,000 an si) le Myanmar Defence Services. Nizan i biachimtu nih hin hi kong hi a pelte zong an chim sual lo. AA nih hin Rakhine State caah independence asiloah mahte uknak cozah an kan hal. Asiloah khahlan Arakan Pennak kha dirh than an i tim. Cu cawlcanghnak nih cun Rakhine ram ah buainak fakpiin a chuahter. Cu ti kahdohnak an tuahnak hmun pawl ah cun curfew hei ti bantuk an tuah i mipi khuasaknak hnahnawh an pek ngaingai cang.
2016 October 9 ah khan ARSA (Arakan Rohingya Salvation Army) 400 hrawng nih Maungdaw le Rathedaung pengkulh chungah a ummi Police sakhaan cu tu le tu an kah hna. Cucu Bangladesh ramri a si. Kanmah kahmi a si tiah ARSA nih an chim. Police 100 lenglo an thi cun mipi tampi an tlau. Meithal zuun 68 hrawng a tlau zenthong 10,000 lenglo a tlau. Cu ARSA le MDS karlak kahdohnak cu 2017 tiang a hun i peh. Gambia nih an tialmi capar chung zongah hi kong hi tlawmte cu an telh ve ko. 2016 October 9 i kahdohnak an tuah hnu in cun Rakhine in thlanglei ah a ummi Maungdaw Ruthidaung le Rathedaung ah ARSA hi a thazaang a hung thawng chin lengmang cang.
Khuakiangkap mi pawl cu an hrocer hna kuuli an phurhter hna, an thawngpang a chintu paoh cu an thah duahmah hna. International Crisis Group nih an chim ningah cun ARSA pawl hi Afghan le Pakistan i tapung pawl sinin hriamnaam le raltuk cawnnak bomhnak an hmu, ti a si. 2017 August 25 zingka te ah ARSA nih cun police sakhaan le khuate fonh in hmun 30 hrawngah kahdohnak an tuah. Hi kahdohnak a tam u hi cu Maungdaw hmunrawn lei ah a si i, tlaangtluan nih a kulh pinah, nitlak lei zawn in khin Bangladesh hei ai cangmi hmun a si. An i tinhbik mi cu Maungdaw pengkulh hi a ningpi in laak an i tim.
Maungdaw a tuanbia hun chimmi kong hi Court nih hun kan ruahpiak hram u law ka duh. 1937 lio i British nih Burma cu India in a then lio ah khan Naf tiva kuang zulh in ramri a rak then i, cucu nihin ah Bangladesh le Myanmar ramri tiah kan ti khawh. Arakan Pennak hi Naf tiva a tlanglei tiang khin a vai sawh i, nihin ni i Bangladesh ram i Chittagong District tiang khin a rak i tel bal. Cucaah, a cheukhat Rakhin mipi nih an ruah ve ningah cun, British nih ramri an kan suaipiakmi hi cheklei kheeltuk tiang an phakter, ti a si ve. Asinain, Myanmar nih hin 1948 i independence kan hmuh hnu in ramri kongah buainak kan tuah bal hrimhrim lo.
WWII lio ah khan nihin Maungdaw hi British nih an rak thlah (zalonnak an rak pe lo) lo. 1942 September ah khan British V-Force kut ah Muslim chungkhar tampi nih an Muslim ralkap an rak pek hna i Japan pawl doh dingah heh tiah intelligence tuah dingin an rak bomh hna. Rakhine ah hin Japan pawl dohnak ruangah Muslim tampi nih an nunnak an rak pek bal. Cu in cun Rakhine in thlanglei ah a ummi Maungdaw laifang ah cun Muslim nih mahte i uk khawhnak hmunhma i halh dingin heh tiah thazang chuah hram an thok colh ve. 1948 i Burma nih Independence a lak hlan deuh ah khan cu ti i Muslim pawl nih mahte i uk khawhnak lam an sialmi cu British nih a hun theih in cun a hnonpiak hna. 1942 lio i Muslim le Buddhist karlak buaibainak cu 1948 ah a hun chuak than i cu hnu le bang cun voitampi an i do than.
Cu bantuk ramchung buainak nih cun Rakhin ram i tlenglei khel hi a chiatchuattuk caah Rakhine ram hi Myanmar ramchung ah a sifakbikmi pahnihnak state a siter phah. 2017 August 25 zingka i Rakhine ram ah a cangmi tuanbia lei ah vun kir than ta ning law. Police sakhaan le khuate 30 lenglo le ralkap sakhaan pakhat cu zingka nichuah hlan ah timh ciammamtein an doh. Tupi le tlaangtluan nih an kulhmi khua an si caah hriamtlai misual pawl hi thuhnawhnak thatha an i ngeih hna. Cu bangin kahdohnak an tuah hnu tlawmpal cun ARSA nih khuate kip ah ralkap a khawmh colh hna. Myanmar Defence Services zong nih cun ARSA pawl cu kee ralkap hmangin heh tiah a hun kah ve hna. Kahdohnak hi hmun 60 lenglo ah an tuah. A nganbikmi pawl hi hmun 12 ah an tuah. In Min Gyi (Tola Toli) village, Chut Pyin village, Maung Nu village, Gutar Pyin village, Alai Than Kyaw village, Myin Lut village, Inn Din village, Chein Kharli (Koetan Kauk) village, Myo Thugyi ward, Kyauk Pandu village, wards of Maungdaw Town le southern Maungdaw ah an si hna.
"Clearance operation" (nae myay shin lin yeh) timi biafang hi hun fianter ta ka duh. Hi biafang a sullam hi tutan ah an sawksaam ngaingai. 1950 hrawng tein khan, Bago Range ah a ummi Burma Communist Party pawl ralchanh in kahdohnak tuah a si tikah hi biafang hi rak hman a si diam cangmi a si. Cu hnu thok tein cun, cozah ralkap nih hin ramchung i tapung asiloah terrorist nih kahdohnak an tuah tikah hi biafang hmangin lehrulhnak an tuah peng cang. Kawl holh in nae myay shin lin yeh timi a sullam taktak tham cu hmunhma pakhatkhat hun thenh tinak khi a si ko. Tapung asiloah terrorists pawl hun thenh (hloh) tinak a si.
Hi hmun 12 chungah ning le cang thatein i hman hi a fawilo ngaingai mi thil a si. ARSA lei in a thimi tampi an um. Hmun 12 chungah hin minung a zaza in an thi cang. Cun chunglei in buaibainak zong a um rih fawn. ARSA nih kahdohnak an tuah hnu in cun Buddhist le Hindu cheukhat pawl cu an thin a phang i an innlo chuahtak in an zaam hna. Mipi a thimi an tam sual lai, ti phan ah raltuknak vanlawng hman lo ah a tha, ti hi theih a hau mi a si. Asinain, voikhat cu ARSA nih cozah ralkap pawl an kulh dih cang caah, helicopter hman hau dirhmun kan phan taktak. Helicopter in cun heh tiah an hun kahpiak hna asinain khat te lei tapung pawl kah an duh ruangah a si lo, cozah minung chanh an duh caah a si.
International Humanitarian Law ralchanh riangmang in Cozah nih a hriamnaam nganngan a hman, tiah biachahnak tuah cu a sullam a um hnga lo. Cun ARSA le mipi zong an thleidang kho hna lo, timi bia zong hi a si kho lo mi a si. Kahdohnak an tuahnak khuate ah chuahtakmi inn le lo pawl mipi nih heh tiah an duahmi pawl hi Cozah lei nih kham awk a tha lo mi a si. Cu tikah, cozah lei nih an khanghmi a si tiin sualphawt awk a tha hrimhrim lo. Asinain tutan taza nan kan cuaimi kongah hi kong hi nan telh chih fawn. Misual pawl nunchimh le dohnak a tuahtu kan cozah hmuhning hi hun ruat hmasa ve ta hram u law cu hnu cun kan ram a nawlngeihnak le himbawmnak kong hi biatak tein hun ruat set cio u tiin nawl kan duh hna. Cucaah, hi bantuk buiabianak kan ton lio caan ah hin, zei ti cun dah genocide biafang lawng i tlaih hi cu a si khawh lai.
2008 Constitution ningah Myanmar nih hin a ralkap kongah upadi a ser ve ko. Rakhine ram ah ningcang lo in thahnawnnak a tuahtu cozah ralkap le ralkap bawi cu hi phung ning tein a kong dothlat hnu ah a biaceih siseh, tiah biachahnak a um. 2019 November 25 ahkhan Gutar Pyin khuate ah a cangmi thil kongah, Judge Advocate General nih court-martial tuah dingin thawng a rak thanh bal. Hi khuate hi a cunglei kan langhter cangmi khua 12 lakah pakhat ai telmi a si. Independent Commission of Inquiry nih an hmuhchapmi a um rih a si ah cun, Office nih daantatnak a tuahmi a chap than te lai. ICOE hi Myanmar President bak nih a dirhmi phu a si i Rakhine kongah hin a si khun. Philippines in a ra mi former Deputy Foreign Minister nih chairman a tuannak phu a si i member pathum an ummi an lakah hin Japan in Under-Secretary General of the United Nations zong ai tel.
ICOE nih cun Rakhine ram khuasa minung 1500 sinin telhte an lak i 2017 August 25 in September 5 tiang i kahdohnak ah ai tel ve mi ralkap minung 29 le police minung 20 zong interview kan tuah cang hna, tiah an chim. ICOE nih an khawmmhmi thawngpang dah ti lo in cun, 2017 lio i Rakhine buaibainak kong a dotthlaitu fact-finding group hi an um hraw ti lo. Cucaah, chim ka hun duh ta mi te cu, Myanmar ram chungah dinnak (justice) kan kalpi cuahmahmi (ICOE) a um ko buah zeirello in a kan chiahpiaktu cawlcanghnak a si mi paoh cu ka cohlang kho ve lai lo, tiah chim ka duh ve. ICOE hi an tuahmi pehzulhter awk an si ko. Ralkap pawl caah cun mah le mah an kong hun i hlathlatter riangmang i tuanvo hun ngeihter cu a fawilo mi thil a si. Cucaah, Court upa hna nawl kan duh rih mi hna cu, ramdang hna an tuanbia tete hun zoh than u law ka duh. Kan tonmi thil hi ramrum pipi zongah a um tawnmi te a si.
Nai hrawnghrang news ah kan hmuhkhawhmi cu ralkap nih dinfelnak (kahdohnak) an tuah tikah, phundang in a sullam lehpiak tawn a si ti kha kan hmuhkhawh. Cucu Myanmar kong zongah a um kho ve mi a si. Cozah lei zong nih dinnak dirpi kan duh ve caah kahdohnak hmun 12 ah ai tel ve mi Inn Din khuate pakhat ah Muslim minung 10 kan thah taktak ve ko hna. Biataktein an konglam dothlat a si cikcek hnu ah, thonginn chngah officers pali le ralkap pathum zong kum 10 thong kan khiahpiak hna. Asinain, ralkap minin ngaihthiam an si than tikah, mipi tampi nih an duhlonak an langhter bal. A dang thilsining tete cu buainak a um lem lo. Mansi kongah, Kachin State ah zatlaangmi pathum thah an si mi kongah cozah ralkap nih a ralkap pawl cu court-martial a tuah hna. 2018 January ah khan ralkap 6 cu kum 10 thong tla dingin bia a ceih hna. An bia ceih a si lio ah khan tantakmi chungkar le khuachungmi zong kan sawm hna.
Office of Judge Advocate General ah hin mithiamsang minung 90 an i tel i, Myanmar rampumpi ah chiah an si. Gutar Pyin nih court-martial an tuahmi kongah kai lawm ngai. Rakhine ah a cangmi theihnak dingah cun khuachungmi hi hehtiah hal ding an si lai tiah biacah an si. Palhnak a tuahmi ralkap, ralbawi pawl heh tiah nun a chimmi i daan a tatmi ram ah hin genocide (miphun pakhat hloh timh) hi a um kho ngai lai tiah nan ruat ve el maw? Tutan kongkau ah cun cozah ralkap hi i hmaithlaak a si bik ko nain, dohnak a tuahtu mipi hna an konglam zong hi kan dohthlai thiamthiam ko lai. Rakhine ah siseh, Myanmar pumpi ah nuhrin covo (human rights) buarsonak a si mi paoh cu ngaihthiam a si hrimhrim lai lo.
Rakhine i buaibainak hi thatein zohfelnak tuah ta hleng lo in, ramleng lei ah thawngpang zamh ai timmi minung an um, ti hi a fiang. Gambia nih an hun apmi taza an kan cuainak ca (application) hi a cheukhat UN minung pawl nih nan i lak riangmang i Myanmar cozah ralkap nih military justice system an i ngeihmi hi rinh awk a tlak lai lo tiin nan hei ti. Hi bia nan chimmi nih hin Myanmar Constitution Article 20 (b) a ralchanh lawng si lo in, cozah kan ralkap le kan mipi hna karlak i kan i pehtlaihnak le tantinak tiangin zeiah nan rello bantuk a si. A bikin kan rampi democracy ram si dingin thazaang kan chuahmi hi a hnursuan khun. Phunghram remh kan timhmi rianpi hi a tu hi Phidaungsu Hluttaw, the Union Parliament ah ah a kal chuahmah.
International criminal justice (pithmuh upadi) hi hmentlaak a si peng ko rih. Ramchung i criminal justice hmaning tuanvo lak hi a phung a si. Ramchung in tuanvo kan lak khawh lo lawngah khin international justice nih tuanvo a hun lak ding ceu khi a si hnga. Cucaah, ramchung in criminal justice kan kalpimi hi international justice nih an tuahmi nakin khual a ran deuh awk a si, tiin nan kan timi hi cu a sullam a ngei lo bantuk a si. Cun ramchung in tuanvo laknak kan ngeihmi kha lenglei kuat ah hei chanh colh tu, ramchung i justice phu pawl zeirello bantuk zong a si. Lungtawi in ai lakmi international justice minung pawl hi zeitindah kan mipi nih an zumh khawh hna lai? Ramchung justice phu nih maw asiloah international nih dah tuanvo an lak awh a si, timi kongah hin a si khun.
Ramchung tuanvo lak a herhnak kongah lungtekep pakhat hmanh hrelh lo in kan phawh dih ta khirkhiar awk a si hnga lo maw. Ram rum pawl lawngin an ramchung thil a cangmi tuanvo lak khawh, ram sifak pawl vial cu an thilrit pi phur peng buin an ton cuahmahmi thil tawlrel kho lo in um si dawh a si, tiin ruahnak a um citcet ah cun cucu international legal dirhmun caah tih a nung ngai dingmi thil a si. Anmah Gambia lila zong hi hibantuk a tong ve mi ram a si ko caah, hi ka chimmi hi an fiang ngaingai lai, ti ka ruah.
Tutan ka langhtermi vialte hi tutan konglam hi ai tlak dihmi an si, zeicahtiah, taza a kan cuaitu nih hin Genocide Convention minpu in taza a kan cuai caah tu bantukin ka chimnak hi a si. A ngaingai tiah cun, a tu hi ramchung in kahdohnak kan ton lio pi a si. ARSA nih an kan kah, kan cozah nih a leh ve. Cucu a si ko. Ngaihchia a si ve mi belte cu, hi Court zong nih ceih dingah a rak i chiah balmi, Croatia ah Croats miphun, cu hnu cun Serbs miphun tam taktak hmunhma an chuahtak bantuk tein khan, hi kahdohnak ruangah hin Rakhine ram khua pathum ah khua a sami Muslim a sangsang in Bangladesh lei ah an zaam hna.
Ka chim cang bang khan, Myanmar Constitution tangah a ummi kan cozah ralkap nih War Crime a buar a si taktak ko ah cun military justice phungning tein an biaceihpiak an si ko lai. Mipi le ARSA thleidan khawhlo, asiloah hmanlo ding hriamnaam ngan an hmang maw hmanglo, nuhrin covo an buar maw buar lo, inn le lo duah a hmangmi an kham hna maw kham hna lo, hranhraamlo in mipi pawl an thawldawi hna maw thawldawi hna lo, timi vialte zong cu justice kongah nawl a ngeitu nih an dohthlat ding a si ko. Cu bantuk tuahsernak a um sual a si ah cun, cucu international humanitarian law asiloah human rights conventions ningin daantat khawh an si hnga. Amahbelte cu, 1948 Genocide Convention phung he cun ai pehtlaih lai lo.
Hi a Great Hall of Justice ah hin thil pakhat hun chim ta than ka duhmi a um. International law hi kan vawlei pumpi chungah kan sunghsakbikmi phung a si ko men lai, US hruaitu siseh, pumpak in ka dangdang ah hruaitu a si mi nih hi kan sunhsakmi phung hi kan dirhpi i an langhter a herh. Bianabia ah, Rakhine kongah linsatuk lehpek in biaka an chawhter mi nih hin Myanmar rak daihnak le lung i rualnak a chiatchuah ngaingai ding khi a si. Huatnak biaka hi huatnak in biachim tikah lawngah a dong lo dawkaw – bia a si lo ning in perhtukmi zong nih hin huatnak bia a chuahter khawh ve mi a si. Hi buaibainak hma pursawnternak nih hin Rakhine ram i lungrualnak a hrawh lai.
Kan ram chungah hin international in a ra i tuanvo a ngeimi pawl mitampi cu vava an tum cang. Asinain, 1980 thokin khan, miphun tampi kan umnak kan ram chungah hin remdaihnak dothlei tampi i hrawmti kho dingin rian kan tuan. Rakhine ram i buainak hi 1940 hrawngin khan tuanbia a ngei cangmi a si bangin, nihin i a takin tuah dingmi phung le phai lawng i hman riangmang in tawlrel awk a thami thil a si lo, khat le khat i lungkhatnak a umnak hnga lungthin lei rualremnak zong biataktein kan dirpi a hau mi a si. Mipi hna an i remnak le daihnak dingah hruaitu hna nih thinlunglei in heh tiah thazang an pek hna i an ramsiam hna a herh.
UN Secretary-General a pathumnak a si mi U Thant hi kong hi fiangtein a pemh. 1974 ah cauk in an chuahmi View from the UN timi a cauk chungah cun "Kumzabu 21 chung a lut dingmi lakah a fim taktakmi le khua a ruatkho taktakmi cu vawleipi rammi sinak (planetary citizen) ai ngeihmi ka si, tiin ai ruatmi hi an si" tiin a tial bal (p. 454). Vawlei pumpi i rammi sinak aingeihmi bantukin i ruah hi ram khat le ram khat, miphun pakhat le pakhat, cun bianak pakhat le pakhat i pehtlaihnak ah a biapi ngaingai mi ruahnak tha a si.
Minung kan nunnak thanchoter dingah cun kan lungput zong hun kauhter deuhdeuh ve i, khat le khat siangkhat tangti tein kar kan hlanti hi a biapi hringhran. 2016-2017 hlan zongah khan, Rakhine ah khua a sami Muslim, Buddhist le a dang miphun tete hna zong hi, Kofi Annan Advisory Commission nih a chim bangin, thanconak a umlonak le sifahnak nih a dennak hmun a si piin ramchung kahdohnak a tongmi an si, tiin a rak langhter bal cang. Myanmar cozah zong nih hi a biachimmi pawl cu kan i hmaithlak ve. Kan riantuantihawi pawl he tangti in, miphun a simi kip nih ai rualrangmi covo ting cio dingin heh tiah tazang kan chuah lio pi a si. Mahpungtin tuahnak kongah riantuantu phu thlah an si cang.
Rakhine ram chungah a chuakmi hngakchia paoh cu zeibantuk biaknak le miphun an va si pek ah, birth certificate pek dih an si. Cun, Muslim mino pawl zong ram pumpi cuul ah a ummi university kip ah kai kho dingin tawlrelpiak an si. Rakhine ah khua a sami paoh cu a rauhhlan ah scholarship zong pek dingin international in siseh, ramchung hawikom hna hmangin tawlrel a si cuahmah. Maungdaw pengkulh chungah miphun karlah remdaihnak um kho dingin heh tiah riantuantu phu nih rian an tuan lio pi a si. Biaknak dang karlak remdaihnak zong tuah dingin thazang chuah a si. Hi bantuk cawlcanghnak vialte hi Rakhine ah khua a sami hna an thuttonak, himnak, fimcawnnak, ngandamnak, rammisinak le miphun tampi karlak i remdaihnak a umnak dingah karhlaan tete kan tuahmi an si. IDP camps pathum cu phih an si cang. Bangladesh le Myanmar ram hnih hnatlaknak tang te ah, Rakhine ah har a tongmi hna thuttonak tawlrelpiak rian zong tawlrel cuahmah a si cang.
A tu bantukin Rakhine ram ah karhlannak tete kan tuah ko bu ah cun maw Genocide cu kan kalpi ko hnga? Cucu zeitindah a si khawh lai? A donghnak ah chim ka duhmi cu, Mr President le Court upa hna, nihin ah Rakhine nih hin Buddhist Arakhan Army le Myanmar Defence Service karlak ah buainak a um cuahmah. Hi buainak ah hin Muslim an i tel lo. Asinain, an himbawmnak kongah cun Muslim le mipi zong hnursuan an tong ve kho ko e. Rakhine ah a tlung cuahmahmi buainak siseh, cun remdaihnak le himnak kan kalpimi a zualhmatter i a chiatchuahtertu ding thil hi cu hun maktak u law ka duh ko. A tu bakah hin Rakhine innpa a simi Paletwa ah a ummi ralkap sakhaan cu AA minung 400 hrawng nih an kah lio pi a si. Rakhine ram Ann City ah cozah ralkap camp pakhat cu AA minung 200 hrawng nih an kulh thup ko.
1948 lio i Independence kan lak thokin khan nihin ni tiangah kan ram nih himnak tlamtling kan hmu kho ti lo i, daihnak le thanchonak theipar zong kan zun kho rih lo. Kan rampi a hrihhram a hnursuangtu huatnak khat le khat i thleidannak, tihphannak le khat le khat i zumhngamlonak hna hi a tu an hrihhram vialte hun coih dih hi kan i hmaithlakbik mi cu a si. Chan chan khat chung kan mipi nih a haal in an haalmi Democratic Federal Union lei panh in kan kal lio ah hin, buainak a si mi paoh ralchanh i, nuhrin covo dirkamh i, ramchung i remnak le phung nih nawl a ngeih khawh thannak lai fehtein kan dir peng ko lai. Kan mipi dihlak an himnak le an covo a pe khotu remdaihnak le lung i rualnak a kalpitu champion kan si bangin, dinnak kan kawl. Mr President le Members of the Court, thatein ka bia nan ka ngaihpiak caah kai lawm. Myanmar nih kan apmi capar hunpehzulh dingah Professor William Schabas to continue the Myanmar submissions hun sawm ta ka duh. Credit: Chelsea Bawi (Global Rawn Chin Media)