Suh Kyi Telh In Ralkap A Dirkamh Tu Paoh Cu Hell Thlak Khawh Nan Si.
Suh Ci nih cihmih sualnak ralkap nih an tuah lo ati mi kong ah tawifiang tein seh. A dirpi tu paoh ralkap dirpi he aa khat i pastor pawl bang kha cu ralkap ualnak tleihhremnak thahnawnnak humzual le tha pek a si caah hell tlak khawh an si. Laimi nih cihmih sualnak kan fiang rih lo. Minung pakhat thah hmanh ah cuai a ngah. Ziah tiah cun that lawng si loin nuhrin covo tahfung in tah a si.
A chimmi ngaih cu lung a hmui lo tak tak khi a si. A chimmi a uartu paoh kha cu na sinak fak piin ruah phu a si. A mah a miphun a daw taktak tu Tlangcungmi a ho hmanh nih hi kong ah Suh Ci an dirpi lo. Zeitindah a chim? Kachin IDP minung pathum a thattu ralkap zong phungning tein thongthlak le hrem an si ko. Indin thatnawnnak kong zong ah ralbawi pali le ralkap pathum tlaih le rianhrang he thongthlak an si. Cu tluk in ralkap tuah ser nak ah hlathlainak le hremnak a tuah komi ram cu cihmih (genocide) sualnak na tuah ti awk a tha lai maw? tiah a ti. A bia nih ka cek ne tiang in a ka runh.
Ralkap nih hin Kachin IDP pathum lawng maw an thah rih? Minung zei zat remruam dah an thah cang hna i, an tleihhrem cang hna, an kong ceih a um bal maw? A tu Arakan i tuk dohnak tawite chung hmanh ah khuanu khuapa le sualnak ngei lo ngakchia a za in an thi cang, a ho nih bia ceih a um maw? Vawleipi hmaiah i chim ve ding ah Kachin IDP thattu pawl hmanh an i tlaihter a si ko lo maw? ti tiang in biahalnak a chuak.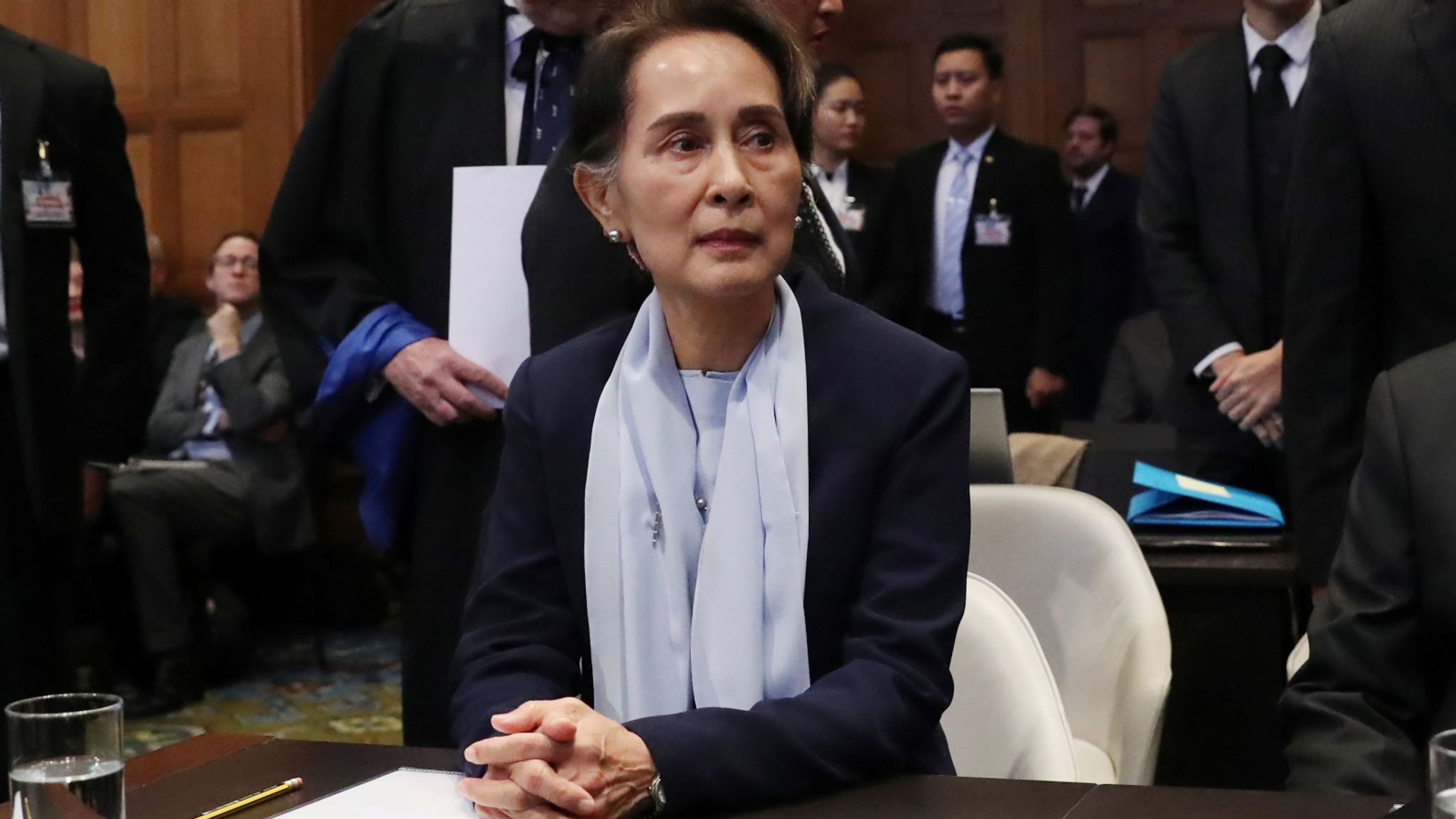 A ngai ngai ahcun Gambia zong hi ka țanh hlei ve hna lo. Ziah tiah cun Muslim Rohinga lawng an dirpi ve hna i, nain kam khat cun an mawh ve lo, tlangcungmi a bik in Laimi pawl hi Su Ci lei ah kan dirmi hrim hi tazacuai phu kan si ve. A ngai ngai ahcun Suh Ci sual cu a si lem lo e, Kawl ralkap sual a si ko. Nain miphun dang kong he pehtlai cun Kawl ralkap, NLD, USDP vialte hi thi khat le sakhat lawng tein an dir ti tal hi pemh kan hau. Cu lawng hlah, Tlangcungmi kong he pehtlai zong in thikhat le sakhat bak an si. NLD le USDP ralkap cu an i seh caan le nawn caan hmanh a um lai. Nain Tlangcungmi ruangah a si bal lo ti kha pemh u sih.
Democracy kong a si hmanh ah an mah kawl ca lengmang kha a si ko. Democracy zong ah tlangcung mivialte hi an kut tang ah chiah zungzal an kan duh. Curuangah Arakan nih cun zei ti hmanh in Kawl he umți an duh ti lo nak a si. A ngai ngai ahcun Arakan pawl cu zei tik hmanh ah Kawl nih an nautatmi an si bal lo. Tlangcung mi vialte lak ah an upat bik mi an si. An holh tiang khin aa lo luklak khi a si. Laimi an kan nehsawh ning le PK mitpawt tete hmanh an lor ning in Arakan khi kawl nih tuah hna seh law, Arakan nih an sa zong an ei dih cang hna lai.
Kawl ralkap kong hi cu zapi nih hngalh tuk cang mi a si ko i, Nain NLD uarnak nih Laimi sub-conscious mind ah Kawl ralkap cawimawinak a hrin ziah mah cang. Kawl ukpennak duh uar nak a hrin ziah mah cang. Kawl kut in luatnak thinlung a khar ko cang rua. Solhphelh le sonhtarh ziaphel thiamnak a hrin chin leng mang cang. Zungzal sal sinak aa duh deuh mi hi cakei si loin chizawh a si. An i lo ngai nain an i dang tuk. Uico le Chizawh hi thiamnak talent tampi an ngei mi a um nain Laimi nih cu zawn ahcun kan tluk hna lo. Sal lungput an ngeih mi tu ahcun kan tei men hna lai.
US lole Japan hrawng ah ICJ zung hi um seh law Refugees tampi hmanh nih Suh Ci le Ralkap dirkamh in lam a zawh ngam ding phun kan si. Cu bantuk ahcun ningzah tuk ding tu ah kan ral țha ngai. Wa te hna nih Suh Ci kan dirpi an timi tham, an nih cu kawlralkap nih samfang ngaw hmanh in an hnor lo mi hna, a luatmi ram pakhat bantuk in a dirmi a si caah a si. Cu hmanh ah lam zawh in banner he zei he an dirpi lo.
Tlangcungmi cung ah sualnak an tuahmi hi rel cawk le chim cawk ding a si ti lo. A tir te khan tazacuai a phu tuk cang mi a si. Nain cawipiaktu kan ngei lo. A tu ah Rohinga pawl nih cuai piaktu an ngei tikah kan lung aa lawmh lo hmanh ah dai tein um ahcun thil dik deuh a si hnga. Nain (tlangcungmi cung sualnak cu chia rih sih law) Rohinga minung tam tuk a that tu le nu le ngakchia tiang in a tleihhrem in a that tu pawl Ralkap humzual in kan dirpi ti ah Hakha pastor tiang nih nan aumi kha Pathian mit hmuh zong ah sualnak ngan ngai a si lai tiah kei nih cun ka ruah. Thawngtha cu chim hlah, Human right timi bia fang chim ding hmanh ah nan i tlak ti lo.
A ngai ngai ah hi kong hi human right kong pei a si cu. Cihmih sualnak genocide timi cu miphun pakhat kha pakhat zong tang loin va thah kha a chim duh nak a si lo teh. Human right tahfung in tah a si. Gambia zong nih Rohinga a ting in an thah tiah a cuai lo teh, minung a zaleng te lawng thahnak in pei a cuai ko hna cu. Minung pahra thah hmanh ah thil sining nih a chit lo ahcun cihmih sualnak ah a lut ve teh.
Human right a buai tuk mi paoh cuai khawh a si. Kawl cozah le Ralkap hi chan khat hnu chan khat in nuhrin covo human right buartu kan ti hna. A ngai ngai ah buartu lawng an si lo. Buar ti cu a din tuk rih. Kan covo le kan hmailei le ruahchannak tiang in a kan sawksam le hrawhpiaktu dih tu an si. Zungzal sal sinak thim nan duh ahcun Bible ning tein nan hna khaw kha innkaba ah i vih law law nan hau lai. Siang Bawi