Ram Tinthei:Thir Cikcin He An Kalpi Ko Cu, Minung Fa Thinlung Nih A Tuar Kholo
Rev. David Lah kawl palik nih thir cikcin khih in an kalpi ko cu lungthin nih a celh hrimhrim loh. Sualnak cu a va tuah kho hnga, Coronavirus phung zong a hei buar ko hnga, asinain thir cikcin khih in kalpi thengtheng a hau loh tiah mitampi a timi zong an um ve. Palik nih an tlaih khin palik vialte khi teh phung an buar ve ko law maw? Cu lawng hlah Media vialte khi teh zeiruangah dan an tat ve kun hna lo khi zatzat minung tam khi.
Rev. David Lah thir cikcin in an tlaihmi an kalpi kong ah bochanmi Ram Tinthei nih a lungfahnak hitihin a chim ve "Lung a fak hrinhran ko. Thir cikcin he an kalpi ko cu, minung fa thinlung nih a tuar kholo. Bawipa sunparnak ah cang hram ko seh. Miscarriage of justice! Discrimination! Lack of fairness! Disgusting act!," tiah a lungfahnak a langhter ve.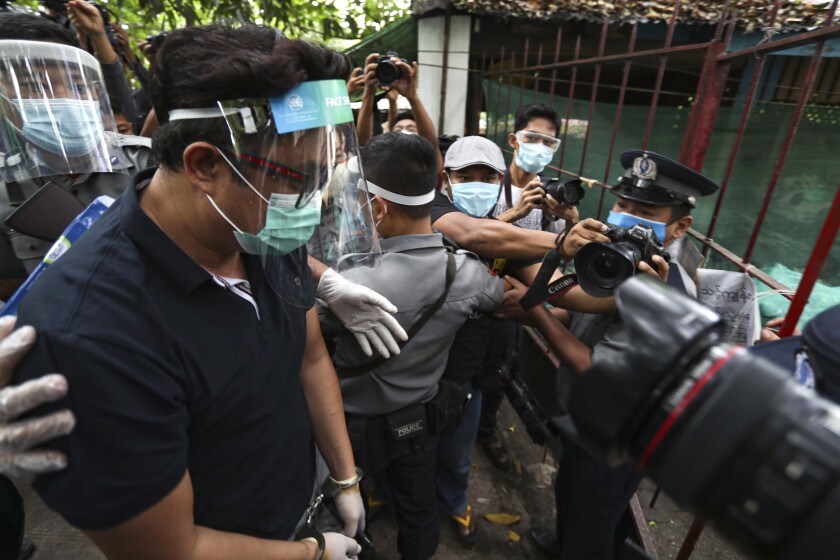 Dr.Sasa nih a lungfahnak hitihin a chim ve " Khoika ah dah social distancing cu a um ne. Khoika ah dah social distancing phung sermi (Nature Disasters Management law) cu a um kun ne. Mah ka I a ummi media vialte hna khi zulhphung sermi zalong tein hrawhnak nawl maw an ngeih ne. Mah bantuk hi maw uknak phungphai tiah kan ti lai. A taktak ah cun cohlan khawhlomi a si. Anmah palik le media pawl nih nature disaster law an buar ttunglo ah cun David Lah hi zeitindah phung a buar an ti khawh lai. An tuahmi thil hi zumh khawh an si lo tiah a ti", tiah a lungfahnak a phuan ve.
Sualnak nganpi tuahmi mithat lainawng hmanh palik nih hitihin a zulkhal hna loh. Rev. David Lah phung a buar ruangah palik khi zatzat nih a hnuhmai an zulhmi khi zeidah an duh a si hnga? Cu lawngah thir cikcin in an khihmi hrimhrim aherhnak a um loh. An tlaih zongah a zaam dingmi minung zong a si lomi. Pathian nih lam a hruai hram seh thlacamnak in bawm cio hram hna usih.