Ram 7 Nih Amazon Meikang Thahnak Caah US$ 22 Million Bomhnak An Pek
Ram 7 Nih Amazon Meikang Thahnak Caah US$ 22 Million Bomhnak An Pek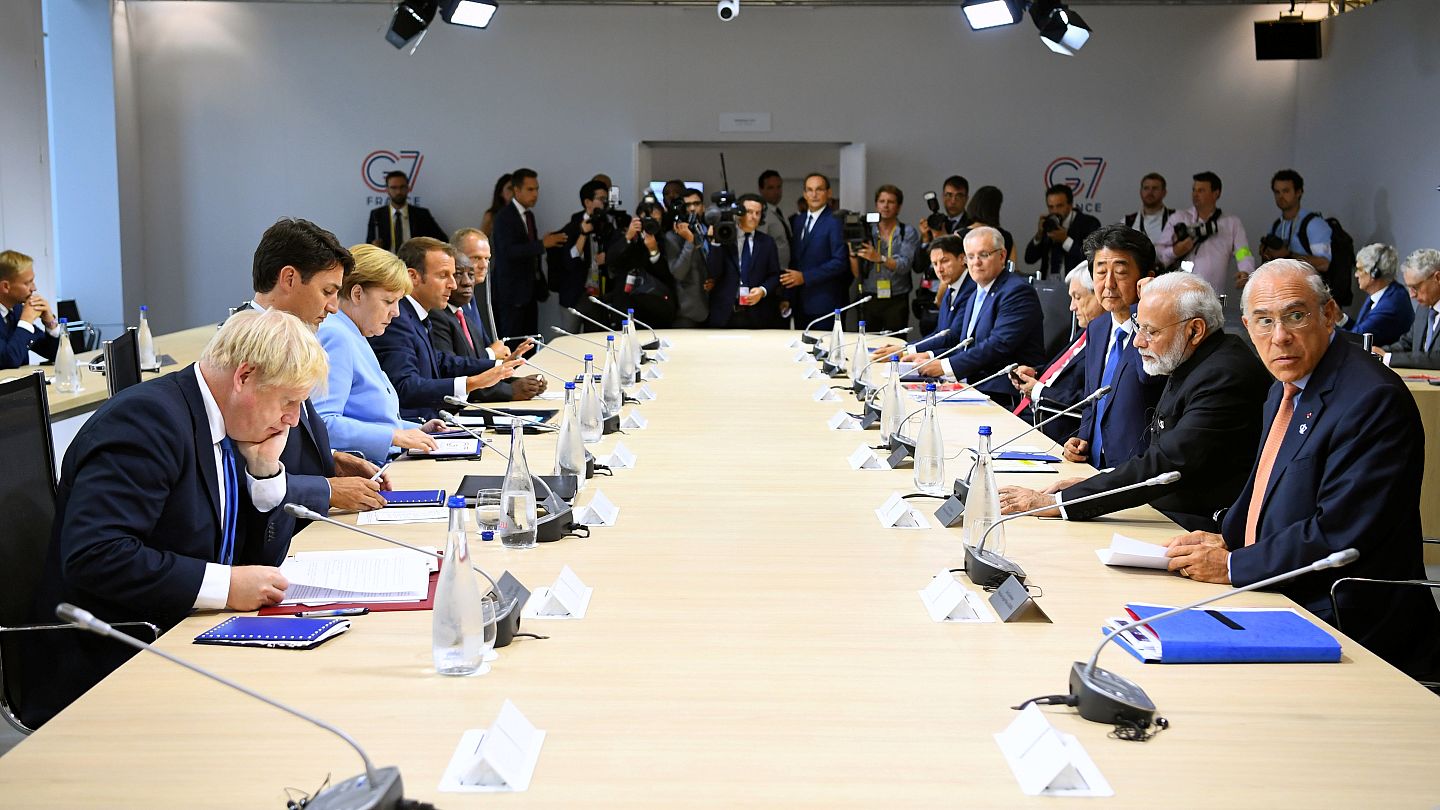 Biarritz, France ram ah vawlei cung ram rumbik US, Britain, Canada, Italy, France, Germany, Japan (Group of Seven) ram hruaitu hna cu Aug. 24-26 ah tonbiaruahnak an ngei. Brazil ram i, Amazon Rainforest ram a kang mi thah khawhnak dingah US$ 22 million bomh dingin hnatlaknak an ngei. Mah G-7 Summit ah hin US President Trump le British PM thar Boris Johnson hna cawlcanghnak nih mipi thinlung biatak tein a lak fawn.
President Donald Trump nih cun G-7 ah i tel ve dingin Russia cu sawm in tel ter tthan an duh nain ram cheukhat nih Russian President Vladimir Putin nih Ukraine cung a thiltuah mi le Crimea a lakpiak ruangah le Donetz le Luhansk region ah Russia nih i cheu a duhmi hna lei a dirpi hna caah tiin hremnak kan pek rih hau tiin an tel duh lo hi si. G-7 ah hin President George W. BUSH chan lio khan Russia hi a rak i tel nain, G8 ti a si nain, Ukraine cung a thiltuah mi ruangah an chuah hi si.
G7 Summit ah hin Environmental venhimnak ceih khan dingah hin President Trump aa tel duh lo i, US Sr officials lawng an i tel. Trump nih cun ramdang palai Japanese PM Shinzo Abe le German Chancellor Angela Merkel he i chonh a herh a ti nain a tel duh lo.
French President Emmanuel Macron nih Trump chimh hmasa loin US hremmi chungin Iranian Foreign Minister Javed Zariff cu a sawm tikah mah ruangah Trump a lungtlinlonak a si kho tiah an zumh cio. Hi kongah US Ambassador to UN a rak ttuan tthingmi Nikky Haley zong nih Macron thil ning cu President Trump le an hawikom hna upatnak le an palhnak lakter a si tiah a soisel colh ve. Macron nih hin Iran Nuclear Deal hi a thar in hmalak tthan a duh i, Iran le US karlak pehtlaihnak a ttha lomi cu an karlak ah remnak ser hi a duhnak si ve.
Hi kongah Trump zong nih Iran Nuclear Deal kong ceihkhan dingin Iranian President Hassan Rouhani he i hmuh a duh i, lamttha kawl tti dingin a duhnak cu a rak chim bal cang. Khat leiin Israel lung a rak tling ve lo. Trump nih hin North Korean Dictator Kim Jong Ung bantuk in, Hassan Rouhani hi hmuh a timh tiah ruah a si.