Ralkap Thil Tuahmi Cungah China Nih A Um Kho Ti Lo! A Holh Ve Cang
We strongly demand UN- EU- NATO and the US to immediately take actions on Russia and China for supporting the criminal Myanmar military to destroy the innocent civilians! Kawlram China ambassador nih atu lio Kawlram ah a cangmi buainak kongah an lung a tthatlonak le an duhmi a si hrimhrim lonak kong a hun chim cang. Russia bel nihcun fek tthup in ralkap a dirpi ko rih. China le Russia ram pahnih lawnglawng hi Kawl ralkap nih uknak an lak lai ah felfai tein thawng an thanhmi ram an si, tiah ruah a si. Atu lio ahcun China nak in Russia nih Kawl ralkap an dirpi deuh hna, timi fiang tein a lang!
A ruang tampi lakah aa tel khomi cu ralkap nih uknaknak an lak deuh hlan January thla chung ah khan Russia defense minister-Sergei Shoigu cu Kawlram ah a rak tlawng i Kawl ralkap he Vanlawng kahnak (surface-to-air missile system) surveillance drones le Radar equipment pawl cawk ding in biahrennak an tuah dih. Cu lengah Kawl ralkap nih uknak an lak sin in Russia sermi Covid vaccine hman ding in biachahnak a tuah colh. Hi viate hi dollar million tam tuk man a si cang! Cucaah Russia nih Kawl ralkap dirpi ruangah a hmuh dingmi miaknak a tam i sungh dingmi um lem lo in a ruah caah caah fek tthup in a dirpi ve nak hi a si ko.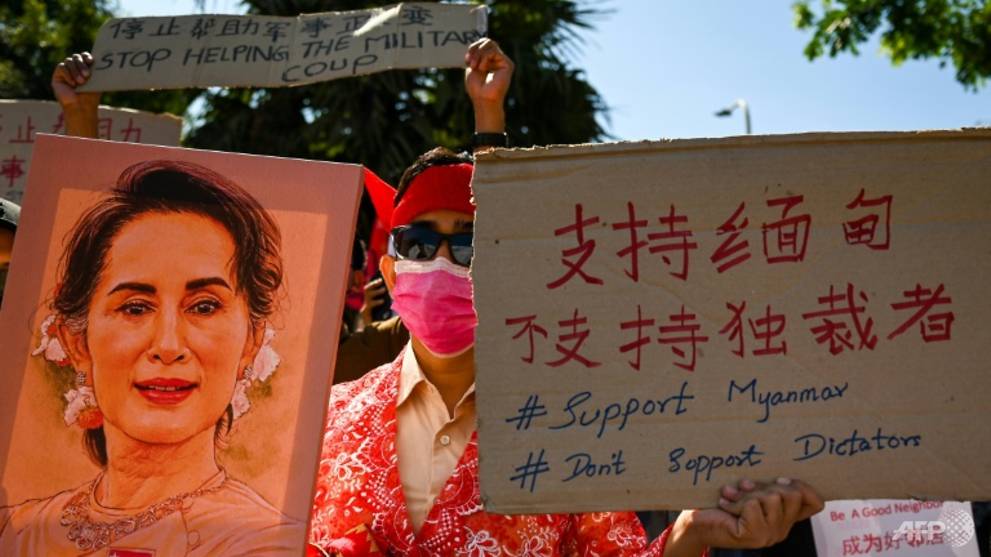 China nih Kawlram mipi dihlak he ral ah i ser hi ralkap he lawng i theihthiam lonak in a ttih deuh, timi atu tan an ambassador hmurkaa ah a lang ngaingai. Zeicatiah China nih Kawlram chung i a rian ttuan cangmi le ttuan timhmi vialte khi, mipi nih duh bak lo ahcun ralkap duhnak lawng in a kal kho thai ding an si lo, timi fiang tein an hngalh.
Cucaah China le Russia embassy hmai i duhlonak fakpi in langhter le US- UN le NATO hna nih Russia le China cu kawl ralkap an dirkamh ruangah fakpi in dantat ding, tiah warning an pek hna ahcun Kawl ralkap cu khuaci an mui ko lai. We strongly demand UN, EU, NATO and the US to immediately take actions on Russia and China for supporting the criminal Myanmar military to destroy the innocent civilians! Credit: Hrambik Lian