President Trump Impeachment Asi Nak Taktak A Ruang-8
President Trump Impeachment Asi Nak Taktak A Ruang: President Trump House Democrats hna nih zeiruang ah dah impeachment an timh le buaipi a hrawmthawk in langhter ahcun a sautuk ding khi si. Mah chungah impeachment an timh an timhnak a ruang biapi deuh tlawmpal in kan rak langhter lai.
1.President Trump nih Ukrainian President Zelinsky a tlin ka cang khan lawmhnak bia a chimh pah in US Vice President tthing simi Joe Biden fapa Hunter Biden, Ukranian Gas Company i a rianttuan ning hlatpiak dingin a nawl colh. Hunter Biden cawlcangh ning hlat asi khawhnak dingah US nih Ukraine military aid (Russia lei in Ukraine a rak dohtu hna lehrulnak dingah US nih a bawmh tawnmi cu) a kham colh. Hi ruangah Democrats hna nih Impeachment articles 2 ; Abuse of Power le Obstruction of Congress hmangin President Trump thlaknak ding hram an thok colh.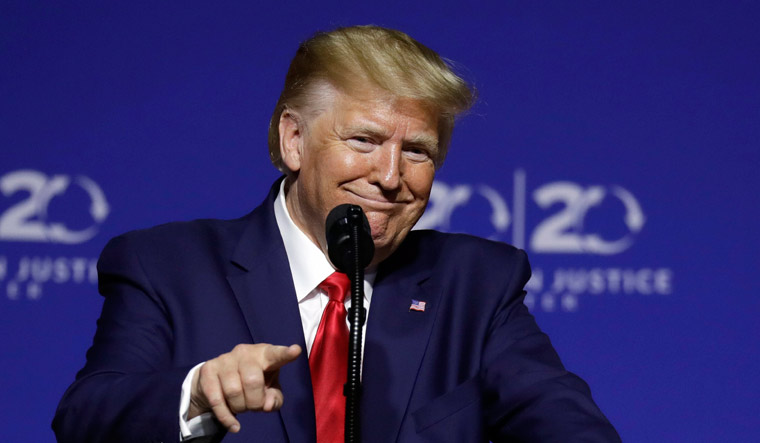 2. Kan theih bantukin President Trump hi a tlin le cang ka in Democrats hna nih an duhlonak le an dohnak kong cu theih dih asi. 2016 election lio ah khan Russiagate hna rak lang in Special Counsel Mullers Investigation hram an thok colh, sinain zeihmanh chuah pi khawh mi an ngei lo.
3. President Trump dohnak bia le hla Democrats an buaipi taktak tikah cun Abuse of power hi chim ding a van tampah ve. A ruang cu Trump le Joe Biden hi 2020 US Presidential elections ah anmah pahnih hi a zuam dingmi ah zumh bikmi an si. Joe Biden a thil ti sual langhter a timhnak ah amah tu ai thlahphoih. Democrats hna nih impeachment trial ah theihpi tu (witness) an kawh-auh hna, Donald John Trump cawlcanghnak ttha lo cu White House Staff le The Trump Administration hna sin in an rak chuahpi cio hna.
4. A luancia December 18 ah khan House Democrats hna nih vote lak in President Trump impeachment dingin timhnak an ngei, sinain Impeachment articles 2 hi Nancy Pelosi in thla 1 deng, christmas dinh caan chung vialte a ken. Hi kong te hmanh ah Democrats hna cu dinh caan hman hmang huaha hna loin Trum dohnak dingah heh tiah an cawlcang peng rih.
5. January 16 ah Democrats hna nih Articles for Impeachment 2 cu Senate floor ah an pek, Impeachment articles hi Senate floor ah rel dih asi. mah bantuk cun Nancy Pelosi nih Impeachment managers ding mi 7 cu Democrats lei kam in thanhnak a tuah chih ve. Chief Justice of America zumhtlak sinak biakam ter in, Senate impeachment trail hi amah kut chiah si.
Hi Kongah Thawngpang Thar Um Mi: 6. President Donald Trump nih Ukrainian President Zelenksy hmu dingin amah lawyer Rudy Giuliani nih ca a kuat mi kongah zeihmanh ka theihpi lo timi a chim pinah Rudy Giuliani hoikom ttha Lev Parnas, Trump illegal campaign donations petu zong ka theih mi si lo, tiin voitam pi a chim. Asinain Trum nih Lev Parnas hman aa thlakpi mi cu hmuh asi tthan.
7. Impeachment articles nih Senate floor a phak hnuah, Ukraine lei nih thawngthar an rak langhter ve. Cu cu Ukrainian Interior Ministry nih cun US Ambassador to Ukraine si tawn mi, Trum nih a rian in a phuah mi, Marie Yovanivitch cu Ukraine a rak um lio ah khan ngiathlaitu an um maw timi hlathlainak ngaih tthan si lai. Trum minung hna nih a thlithup in an rak ngiat peng ko timi an theih citcet ahcun Trum impeachment nak lam a kau chinchin cang lai.
8. No 6 nak ka langhtermi, Trum nih Lev Parnas hi ka theihmi si lo ti a chim thok khan A whats app lei ah US Ambassador to Ukraine si tawnmi Yovanovitch cu Trump ally, Robert Hyde nih a minung hna cu ngiathlai dingin a tinak kong cu a rak um tthan. Mah hi Ukraine interior Ministry an rak langhter tthan mi cu si. Trum nih hin Lev Parnas hi a theih lo taktak maw si aa theihter lo dah si hnga?