Myanmar Ah Covid-19 In A Dammi An Um Ti Thawng Theih Cu Tha A Nuam Ngaingai
Myanmar khualipi Naypyitaw sii inn pi ah coronavirus zawtnak ruang i chiahmi minung pakhat cu a zawtnak in a dam cang tiah Ministry of Health and Sports (MOHS) nih a chim. A mah hi hneksaknak voihnih kan tuah hnu ah negative a si tiah fehter a si ti a si. Kum 58 upa Swiss minu hi a zawtnak in a dam cang ti a si ko nain zohkhenhnak tang ah zawrh hnih chung cu a um ko rih lai tiah Naypyi taw hospital aiawh biachimtu Dr. Pa Pa nih a chim.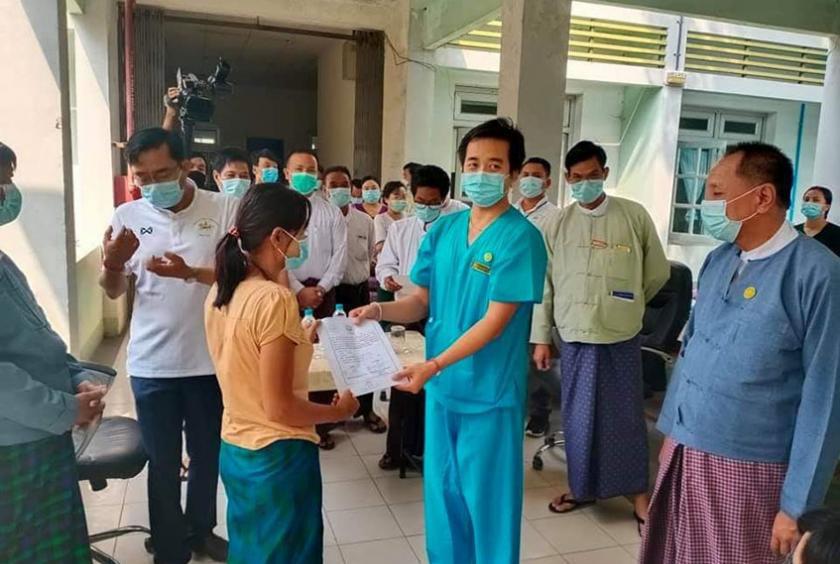 Naypyitaw Public Health Department lutlai Dr. Myat Wunna Soe nih The Irrawaddy sin ah a chimmi cu, hi minu hi hotel room a dangte in mi chiahnak ah zarhhnih chung cu a um rih hrimhrim a hau. Hi a um chung ah hin zei dah a lawh timi check lengmang a si lai. Naypyitaw ah hin a cozah nih a dangte in mi chiahnak le zohkhenhnak ding caah hotel tampi timhtuah an si tiah a chim.
MOHS nih mah minu hi a pa he pehtlaihnak a ngeimi an si. A pa hi a fanu Myanmar ah March 18 i a rak tlun hlan deuh suimilam tlawmpal ah coronavirus positive a si tiah rak hmuhchuahmi a si. Myanmar a rak phanh hnu March 26 ah khan hospital ah luhpi ah si i cu ah cun khuasik le coronavirus a langhning cheukhat hna a pum chung ah hmuh a si. March 28 ah khan hneksaknak thate in tuah hnu ah positive a si tiah fehter a rak si.
UN ah rian a ttuanmi a si i UN lei nih cathanh an chuahning ah cun Naypyitaw a rak phanh zong ah hin a dangte in a um. A mawtaw mongtu le ramchung ah rianttuantu a rak bawmtu zong hneksak colh an si ve nain negative an si, tiah an chim chih.
Tu nai te ah khan Mandalay ah coronavirus in a zawmi pakhat kum 33 minung zong hneksak a si tthan i negative a si e tiah theih a si. MOHS nih cathanh an chuahning in mah mip zong hi Mandalay Kandawnadi Hospital ah chiah rih a si tiah an langhter. World Health Organization nih an thanhning in Myanmar ramchung ah coronavirus in a zawmi 22 an si i a thihpi mi 3 an si cang ti a si. Ref: Irr