Khah! Dr.Sasa nih MARA caah Ahal dingmi pawl tling tein kan rak langhter, a rak turu taktak hna hi teh!
Issac Khen cu Mara Lailenpi a phan. Mah lio ah cun zeitindah bia a chim ti ahcun, "Mara miphun nih nan lungput, nan duhmi thil hna hi ka theih dih. Mara nih Township nan ti zong ka theih dih. Mah nan duhmi thil hna nakin a biapi deuhmi cu Dr.Sasa hnu nan zulh dih hi abiapi deuhmi asi.
Central he naihniam tein nan um khawh hi abiapi tuk, Central cozah hnatlaknak tello in Lailenpi Airport zong nan tuah kho lai lo. Cun Lailenpi Airport lim tik zongah MAF airlines nih Lailenpi ah service khawhnak dingah cozah hnatlaknak a hau rih.
Cozah he naihniam tein nan um khawh ah cun nan caah a tha lai. Cu caah Dr.Sasa biachim hi zumh ulaw, a mah hnu hi rak zul ko u. Cu pinah ENDP he hmuhkhat teah nan umti khawhnak hnga kan duhpi hna. ENDP nih MP nan neih khawh zong hi kan duh ngai ko, amahbel cu nih cun sullam a nei lai lo. Union Parliament (Pyithu le Amyotha) ah NLD mee pe ulaw, Pyine ah NLD nan pek lo ah cun sullam a nei lai lo".
"Lailenpi –Matupi direct motor lam, Lailenpi-Paletwa direct motor lam, Lailenpi-Sittwe direct motor lam, Lailenpi – Rezua motor lam, Lailenpi-Sinletwa, Lailenpi-paletwa via Sami motor lam, tibaktuk vialte hna hi Dr.Sasa nih a hal dingmi Agenda ah aa tel dih cang tiah Issac khen, Ex-Cabinet Minister, Government of Chin State, Chairman of NLD Campaign Committee nih a chim. Hi vialte ruangah hin Mara miphun dihlak nih Dr.Sasa hi hnu nan zulh awk a si" tiah Issac Khen nih a chim chih.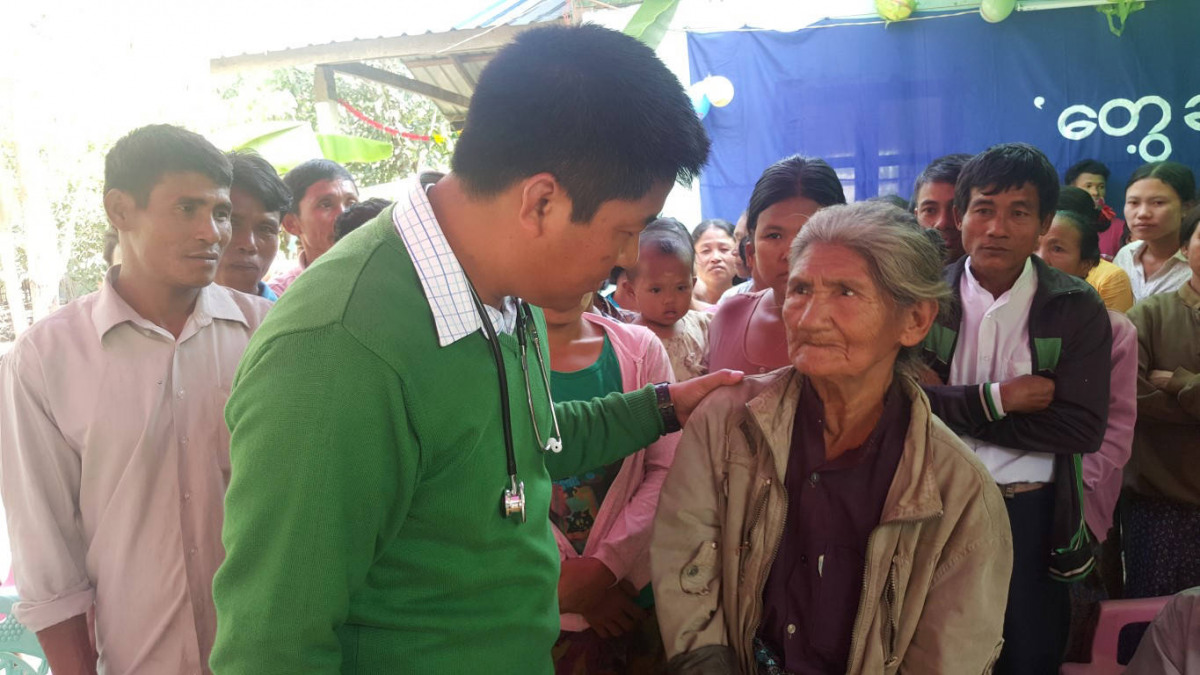 Admin hmurka- Mah Agenda vialte hi tlam a tlin khawh ah cun, Mara ram ca lawngah si loin Chin miphun dihlak ca zongah a thami a si ve thiam thiam ko. Mah kan langhter lomi pinah tampi a um rih kho ko nain, chimtlak, thil pipa deuh pawl tu kan langhtermi a si. Dr. Sasa nih Central cozah ah Lailenpi caah hal aa timmi pinah Chin state huap in thil tha tuah dingmi zeimawzat aa hmaithlakmi a um rih ko lai nain tutan kan langhtermi hi cu, Mara ramchung thil lawng asi rih lai.
Chin State CM le MPs pawl nih Chin ram le mipi caah term khat (kum5) chung ah cunglei Bahu ah an halmi nak in Dr.Sasa pakhat nih Lailenpi le Mara ram caah a halmi hi alet tamtuk in atam deuh pinah a tha deuh fawn. Dr.Sasa cu Mara miphun nih 100% an zulh zongah an mawh lo, atuah ciami le a tuah lai ding pei Mara ram caah a tha tuk cu. Hibantuk hi miphun caah riantuan timi cu a si ko. Source: Dailychinstar
Admin hmurka: Chinworldnewsvening nih thawngpang kan ṭialmi hi kanmah nih kan phuah cawpmi kan ṭialmi a si lo. Mipi sinah adikmi thawngpang zamh hi kan i hmuitinhmi a si. Cun, thawngpang kan ṭialmi hi areltu mipi caah ṭhathnem santlaih, theihtleih ṭha siseh ti hi kan i hmuitin bikmi a si. Asinain, minung kan ti cu tlamtlinlonak tete zong a kho mi a si caah thawngpang kan ṭialmi kan palhnak a um  cun theihter khawh peng kan si.
Mipi sinah thawngpang thlazamh piak na duh si cun zeitik caan paoh kan i thlahzamh piak khawh zungzal hna. Kan thawngpang ṭialmi kongah, pehtlaih a duhmi nih Salai J Vanduhthar Lahnin ah pehtlaih khawh peng kan si. Cun, Na relmi thawngpang hna hi midang nih an rel khawh ve nak hnga aṭha tiah na ruahmi a um ahcun, share in rak kan bawm ve. Kan ca a kan rel piaktu nan dihlak cungah kan ilawm. Upatnak he Admin