Kawl Ralkap Nih Sualnak Ngei Lo An Thahmi Hna Kongah Theih Hrehmi
US media ngan CNN tialmi kan in hrawm hna. 𝐌𝐲𝐚𝐧𝐦𝐚𝐫 𝐑𝐚𝐥𝐤𝐚𝐩 𝐧𝐢𝐡 𝐃𝐚𝐢𝐭𝐞𝐢𝐧 𝐃𝐮𝐡𝐥𝐨𝐧𝐚𝐤 𝐚 𝐋𝐚𝐧𝐠𝐡𝐭𝐞𝐫𝐭𝐮 𝐚 𝐓𝐡𝐚𝐡 𝐂𝐡𝐮𝐚𝐡𝐦𝐚𝐡 𝐤𝐨 𝐡𝐧𝐚. 𝐇𝐢 𝐤𝐨𝐧𝐠𝐚𝐡 𝐧𝐚 𝐓𝐡𝐞𝐢𝐡 𝐚 𝐇𝐞𝐫𝐡𝐦𝐢 𝐩𝐚𝐰𝐥 𝐜𝐮! (CNN) Feb. 1 i ralkap nih nawl an lak hnu in duhlonak langhternak cu ram chung hmunkip ah tuah a si peng ko rih. Thlakhat le ca cheu a si ruangmang cang. Gen. MAH nawl peknak hmangin ralkap le palik nih cun daitein duhlonak a langhtertu mipi cu rampi pumpi cuul in an kah hna, tampi an tlaih hna i, an mui hmuh an si thai ti lo.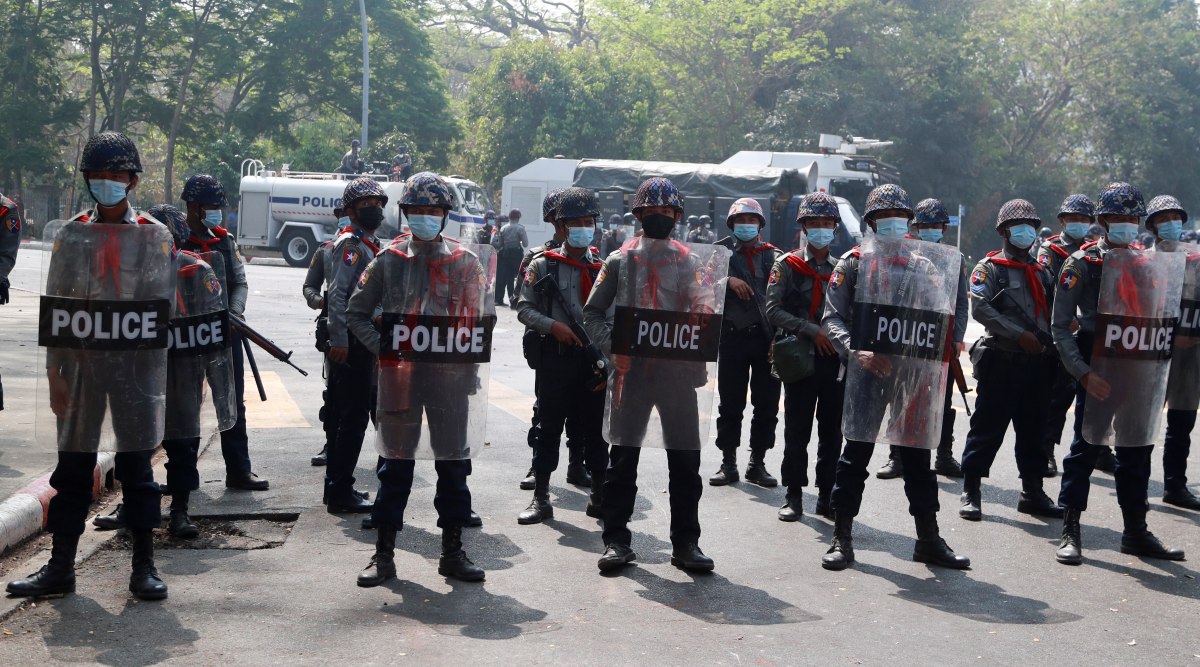 Hngakchia telhchih in a thimi hi 130 lenglo an si cang, tiah UN Human Rights office nih an chim. Cozah lutlai, journalists, activists le mipi an tlaihmi hna hi 2100 lenglo an si cang. Zan ko ah an tlaihmi hna an si. MAH nih Suu Kyi cu a tlaih i, State Admistration Council, timi cozah a dirh colh. Kum khat chung uknak ka lak, tiin thawng a thanh.
𝐙𝐞𝐢𝐫𝐮𝐚𝐧𝐠𝐚𝐡 𝐝𝐚𝐡 𝐫𝐚𝐥𝐤𝐚𝐩 𝐧𝐢𝐡 𝐧𝐚𝐰𝐥 𝐚 𝐥𝐚𝐤? November 2020 general election ah vote a tomtom an fir i Suu Kyi party NLD buan an coter, tiah sual a puh hna caah nawl a lak hi a si. USDP cu tutan election ah an derthawmtuk i, president si khawh an i ruahchanmi an zanmang a tlam a tlin lo tikah, vote fir a um ko, ti tehte hi 10.5 million cases hrawng in kan langhter khawh, tiin ralkap nih an chim. A ngaingai tiah cun tehte pakhat hmanh an langhter khawhmi a um fawn lo. Vote firnak a um lo, tiin Election Commission nih a ti ve.
Tutan election hi Myanmar tuanbia chungah Democracy muisam kengin avoihnihnak election an tuah ceu a si. "NLD le Suu Kyi nih kum 5 chung an pen ah cun Reform tuah ding ai fiang caah tutan nawl an laknak a ruang hi vote ruang nakin ram chungah ralkap nih nawlngeih an duh peng rih ca tu ah a si deuh" tiin mifimthiam pawl nih an chim.
𝐌𝐲𝐚𝐧𝐦𝐚𝐫 𝐧𝐢𝐡 𝐳𝐞𝐢𝐫𝐮𝐚𝐧𝐠𝐚𝐡 𝐝𝐚𝐡 𝐝𝐮𝐡𝐥𝐨𝐧𝐚𝐤 𝐚 𝐥𝐚𝐧𝐠𝐡𝐞𝐫? Nai kum linga chung i politic kongah le economic kongah ram chungmi nih democracy a thawtnam an teh ve cang caah, tutan i democracy sungh than lai cu a ruah in an ruah khawh ve ti lo cah, mino thlu lo, thar thlulo in ram pumpi cuul in lam cungah nifatin an cuah nak hi a si.
Uknak nawl hi civil kut ah kan ap than tu, tiin mipi nih ralkap pawl an hal hna. Nanmah hi tuanvo a ngeitu nan si. Suu Kyi le a dang civil hruaitu pawl kan chuahpiak u, tiin an duhnak an langhter. Cun kum tampi chung an hmun le an ram ah mahtein i uk khawhnak nawl a halmi tlangcung miphun pawl zong nih ralkap nih an suaimi 2008 Constitution zong hrawh lawlaw dingin le Federal democracy phung dirh cang dingin an duhnak an langhter hna.
Nifatin i duhlonak a langhtertu lakah hin mino tete ko hi a tambik an si zungzal. An nu le an pa, an pi le an pu hna nih an co bal lo mi democracy kha annih mino nih cun a thawtnam an vun teh manh cang caah, cu democracy vun sungh than lai cu a ruat an ruat kho hrim ti lo.
Tu lio hrawnghrang cu CDM ah hin a rang le vanzawng in an thuammi sibawi, bank riantuantu, sihni, cawngsaya, engineers le sehzung riantuan tu ko an tam. Mah le rian chuahtaak in duhlonak an langhter. Sibawi- bank- tlanglawng khuabawi pawl ko hi ralkap nih an ngiar khun cang hna. Truck drivers- customs- bank agents le rili tilawng rian a tuantu hna tlaihkhih an ton tuk cang caah, ramdang in thilri a lutmi vialte zong ai din cang, tiah Frontier Myanmar nih a chim.
𝐑𝐚𝐥𝐤𝐚𝐩 𝐧𝐢𝐡 𝐳𝐞𝐢𝐭𝐢𝐧𝐝𝐚𝐡 𝐥𝐞𝐡𝐫𝐮𝐥𝐡𝐧𝐚𝐤 𝐚 𝐭𝐮𝐚𝐡? Kan hnung zarh hnihthum chung kha cu ralkap nih biatakthlak in hriam a hman i, lampi kip cu miruak in an khat i thisen hi tidil bangin ai dil dih. Palik le ralkap kahmi kuanfang in i humhaaknak dingah, tiin mino tete nih cun plastic lutchin tete siseh, cun canphio in an tuahmi phaw cu an i hman hna. Daitein duhlonak a tuahtu le lamkam i a dir ko mi hna an cungah ralram lawngah hman tawnmi hriamnaam ngangan cu ralkap nih a hman hnawh hna, tiah Amnesty International nih an chim.
Ralram ah kuat dingin hisapmi ralkap pawl cu lampi cungah cun an hman hna. "Tutan i ralkap nih daitein duhlonak a langhtertu hna cung i tuksapur in hriamnaam nganngan a hman mi hi cu minung hawi cung i thatlonak tuahmi vialte lakah a sualhmabik a si lai dah" tiah UN special rapporteur Tom Andrews nih a chim. Zantim ah internet an phih riangmang i, cu an phih chungah cun inn khat hnu inn khat an luhhnawh hna, mipi cu an inn in an vung rawt hna. An tlaihmi a tamdeuh cu an chungkhar le he zong pehtlaihnak an tuahter duh hna lo.
Cu tikah zei an lawh, ti zong theih phaak an si ti hna lo. Nai hrawng i miruak 4 kha zantim i an tlaihmi hna an si. Pahnih le bang cu NLD official minung an si. An 4 ning tein in a nung in an tlaih ko hna nain, ruak in an khirh mi hna lawngte an si, tiah UN officials 2 nih an chim. NLD officials 2 cu thi lakin an hremmi hna an si, tiah chungkhar le activist group nih an chim.
Ralkap nih cun anmah lawng nih an onhmi media long hmanter an duh cang caah, media outlets 5 cu an phihpiak hna, journalists pawl an tlaih hna. US news agency caah duhlonak an langhtermi kong a chim lio ah ralkap nih The Associate Press journalist Thein Zaw cu an tlaih. "Amah le a rian te a tuanmi a si ko caah, hun kan chuahpiak u," tiin the Press nih ralkap an nawl hna. Thah le nawn cu a khat cang ko nain mino pawl cu a thongthong in duhlonak an langhter. Journalists pawl zong nih cun nunthaap bakin heh tiah livestream in thil a cangmi an zeih hna, capar an tial peng ko rih.
Buaibainak a tuahtu duhlonak langhtertu pawl hi thiamthihtein dawh ka tawlrel ko rih hna cu. Police pawl nih a neem khawh chung neem in an tonghtham ko rih hna. A si khawh chungin fahpeknak um ko dingin nawl ka pek hna, tiin MAH nih Global New Light of Myanmar a ti salam rih. "Myanmar Police Force nih hin kan democracy phung ning tein a riante a tuan ko. Nihin tiang i a cawlcanghnak hi ramdang he tahchunh ah cun ai ningtuk lehlam rih" tiin MAH nih a chim.
𝐒𝐮𝐮 𝐊𝐲𝐢 𝐭𝐚𝐡 𝐳𝐞𝐢𝐝𝐚𝐡 𝐚 𝐥𝐚𝐰𝐡? Suu Kyi hi caan khat te cu international democracy ICON bak ah chiah a rak si. Kum 15 chung ralkap nih a inn ah an erh hnu ah 2010 ah an chuah than i, kum 5 hnu i election ah bua a co mi cu Western cozah pawl zong nih chingchiahtlak teinak ah an chiahpiak bak ve. A tu hi Suu Kyi cu a hmuh (cases) 4 in taza an cuai lio pi a si. Saupi thong a tla than kho, a inn ah saupi erh a tong than kho, tinak a si. (1) Import le export kongah (2) ram chung kokek buainak tawlrelnak kongah (3) midang ning a thih, a lauter khotu capar chuah ruangah (4) telecommunications law a buar ruangah, tiin taza an cuai. Cun eihmur le rutreu an puh hoi rih.
Zung a thut lio ah Suu Kyi nih hin suitlang le $600,000 hrawng eihmuarnak a tuah, tiah ralkap lei biachimtu Brig. Gen. Zaw Min Tun nih a chim. "A tu bantuk i eihmuar an puhmi hi an tawnchommi lawngte a si" tiah Suu Kyi a sihni nih a chim. Tlaih a si hnu cun Pi Suu cu mipi nih an hmu kho ti lo. President Win Myint zong cu case 4 in taza an cuai ve. NLD officials pawl cu tlaihkhih a tong na, a zam na, ti an si dih.
NLD lawmakers hlun pawl an i fawkkhawm than hna i, civil cozah thar an vun dirh-Committee Representing Pyidaungsu Hluttaw (CRPH) tiin min an pek i, mipi aiawhtu cozah a si ko, tiah interntional nih namhnehpiak dingin thazaang a chuah lio pi a si. CPRT i acting leader Mahn Win Khaing Than nih cun ralkap uknak chan donghter hrimhrim dingin tutan cawlcanghnak (revolution) hi kan kalpi hrimhrim lai, tiah biakamnak a tuah.
𝐔𝐍 𝐧𝐢𝐡 𝐳𝐞𝐢𝐝𝐚𝐡 𝐚 𝐭𝐮𝐚𝐡 𝐜𝐮𝐚𝐡𝐦𝐚𝐡? Ralkap kahdohnak kut chungin Myanmar mipi pawl humzual le tanpi dingah duhlonak langhtertu, acitivists le mipi hih heh tiah international community cu an nawl hna. Vawleicung ram tampi hi ralkap nawllak mi cu sual an phawt i, US le UK nih cun ralkap luban pawl cungah phihkharnak an tuah. EU cu zong nih a tuah ve i, ralkap le ai pehtlaimi riantuannak paohpaoh phihkhar an i tim. Kan hnung zarh ah khan UN Security Council i member 15 nih awkhat tein ralkap nawllakmi sual an phawtnak kong an langhter i, mipi cung fahnak na tuahmi ngol cang, tiin an duhnak an langhter.
"Tutan thil a cangmi hi ralkap nawllaknak (coup) tiin min bunh piak lo ah a tha lai," tiin China, Russia le Vietnam nih an chim. Asinain, cu biafang hmanpiak ko ah cun ralkap cung i nehhnu dantatnak tuah duh a si tikah lam a phihtu thil a si te ding khi a si, tiah UN diplomats nih CNN ah an chim. China nih hin cun ralkap nawllaknak hi sual a phaw sitsai lo nain UN Security Council members pawl aw khat tein bia kan chim hi a biapimi a si. Hi Council nih bia kan chimmi hi Myanmar buainak a daihnak dingah santlai a si lai, tiah ruahchannak ka ngei" tiin UN Ambassador Zhang Jun nih a chim.
Yangon ah a ummi China ngeihmi sehzung tutan i khangh a ton hnu le bang cun China a aw a vun hrang ngai cang. "Buaibainak vialte donghter cang, thatlonak a tuahtu pawl hi chimhring hna. Cun, Myanmar ah a ummi China company le kan minunng pawl an himnak dingah phung ningtein riantuan," tiin Myanmar ah a ummi Chinese Embassy nih an ram nih a duhnak a langhter. Biaka lawng in 'sual kan phawt' hei ti tuktak vial lawng cu Myanmar mipi nih an i lungsi ti lo caah, hi nak in hmual a ngei deuhmi tuahsernak he cawlcang dingin an duhnak an langhter.
"UN Security Council nih kan mipi an i ruahchan ningin bia an chim lo" tiin Myanmar Ambassador to UN Kyaw Moe Tun nih CNN ah a chim. Duhlonak a langhtertu pawl nih 'R2P' timi catlang an i tlaih lulh hna. Vawlei cungah genocide, war crimes, miphun ningin thahnak minung hawi thahnawnak, hei ti bantuk minung a bubu in thahnawnnak hi international community nih zeitik hmanh ah a zohsawh ti lai lo, tiin a langhtertu hi R2P phu hi an si. Myanmar sinah ral hriamnaam zorh ti lo dingin ram 31 aiawh in NGO group 137 nih UN Security Council sinah an duhnak an langhter.
UN chungum ram vialte nih Myanmar ralkap uknak hi cozah pakhat bantuk in cohlanpiak hrimhrim lo dingin Tom Andrews nih a forh hna. Ralkap sin hriamnaam zuar ti lo dingin le ralkap bawi pawl le an ngeihmi company le Myanmar state emergency firm a si mi Myanmar Oil le Gas Enterprise pawl cung tiang zongah phihkharnak tuah viar dingin a sawm hna. Cattialtu: Chelsea Bawi