ICJ ah Gambia ram nih Kawlram taza a cuaimi case
ICJ ah Gambia ram nih Kawlram taza a cuaimi case cu "Application of the Convention on the Prevention and Punishment of the Crime of Genocide (The Gambia v. Myanmar) tiin asi. Genocide crime timi miphun pi thahnak cu Convention ningin khamnak le dantatnak" tiin case an tuahmi asi. December 12, 2019 ah mah hi Netherland ram Hague khua i biaceihnak cu an ban chung cang.
Biaciehnak cu Tuesday 10 December 2019 ni thawk in ICJ biaceihzung chung daihnak hmun timi the Peace Palace timi ah tuah a si. Gambia ram aiawh upadi thiam sang hna cu H.E. Mr. Abubacarr Marie Tambadou, Attorney General and Minister of Justice of the Republic of The Gambia, nih an hruai hna. Kawlram delegation cu H.E. Ms Aung San Suu Kyi, Union Minister for Foreign Affairs of the Republic of the Union of Myanmar nih a hruai hna.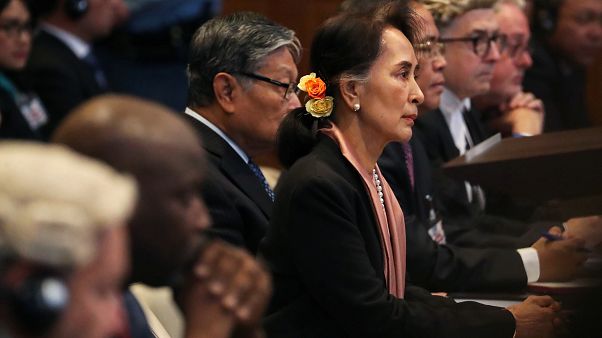 Gambia ram nih a halmi thil a-f atlangpi 6 a um. Kawlram nih a lehrulhmi 2 a um tiah nihin ICJ cathanh 2019/54 ah an tar. Gambia ram nih a chuahpi mi – 1. Kawlram nih genocide um lo ding a kham lai, tlaihhrem thah le hrem khap ding. 2. Ralkap, ralhrang, hriamtlai hna nih Rohingya hna cung ah genocide tuah hrim lo ding..3. Kawlram nih Rohingya hna cung ah genocide a tuahnak in a thimi hna le thahnak hmunhma hna hrawh/thuh lo in phuan dih ding. 4-5-6 United Nationa fact finding body hna khenkham lo ding… tiin a taiwnak in kan leh khawh (comment ah Eng in ka tar chih)
Kawlram nih a lehmi ICJ nih a tawinak in an record mi cu. 1. To remove the case from its List; 2. in the alternative, to reject the request for the indication of provisional measures submitted by The Gambia. tiin a si. 1. Case hi hnawl ding.2. Gambia nih siter a duhmi hna cu reject ding. Tiin a si.
Acaan zat tik ah Public hearing timi zapi theih awk tha dingin Court biachahnak cu thanh te ding asi. Keimah pumpak in ka hmuhning. 1. Kawlram nih a lehthannak ah 'give and take' le negotiation strategy a ngei lo timi a lang. Tongte al in an al, conselor tha an ngei lo ti a fiang ngai. Mah hi ruang ah hin Kawlram hi ICJ biachahnak ah favor a hmuh ding a har ngai lai.
2. Gambia ram nih a halmi number (a) kha tha tein study tuah in an leh than ah cun, "Kawl ram ah genocide um lo dingin 'prevent' khamnak kan tuah ko lai. A tuah zong kan tuah lio timi hi fiang deuh in an langhter khawh tuk ding a si. Cun UN palai hna nih ram chung luh in dothlatnak tuah ding halmi hna zong, kan tuah khawh ko lai tbtk nawl peknak tuah cawlh khawh a si ko-nain Kawlram nih hi pawl hi biafang kek in a chim lo. 3. Case a tlangpi in Genocide case in an sue caah, genocide kan tuah lo tiah Kawlram nih a almi cu a dikmi asi. 4. ICJ nih hin Gambia nih chuahpimi cu tampi a to f an record i Kawlram chuahpi mi ah 1-2 lawng an record hi khuaruah har ngai cu a si.
5. Mah hi Gambia ram nih tazacuai mi ah hin Court nih nuhrin covo buarnak kong ah mah pawl, mah pawl hi tuah lo ding, mah pawl hi Kawlram nih na zulh hrim ding ti an chim te theo ko lai. Gambia nih a hram ailakning a palh ve caah Genocide case ngai ngai cun ICJ nih record tuah i biachahnak um ding cu a har lai. Kawl ram nih request 2 a tuah. Pakhat cu a tei theo lai. Number 2nak Gambia nih a halmi tete hi thiltha tampi – nuhrin covo buar lo ding, thah, tlaihrem, hremnak tbtk kham ding, ti hna lak ah hin Kawl ram nih a zulh khawh dingmi le a tuah liomi zong a um ve ko i, hi #2 nak hi cu ICJ biaceih bawi hna nih "um, ee" ti piak ding cu a har lai. Credit: Salai Biak