Dan Ning Tein An Kalpi Ahcun Biden A Hmaichia Bak Lai Hih
US Thawngzamhnak hi khuaruahhar ngaingai cu an si ko cang. Thawngzamhnak fami hna nih Pennsylvania biacaihtu nih Pennsylvania Governor le Secretary of state hna cu Biden nih teinak ahmuh timi cu pehzulh lo dingin nawl apek hna timi an langhter. Asinain CNN le BBC nih cun Trump legal team hna nih tazacuainak an tuahmi cu cohlan asi lo tiah an langhter ve hoi.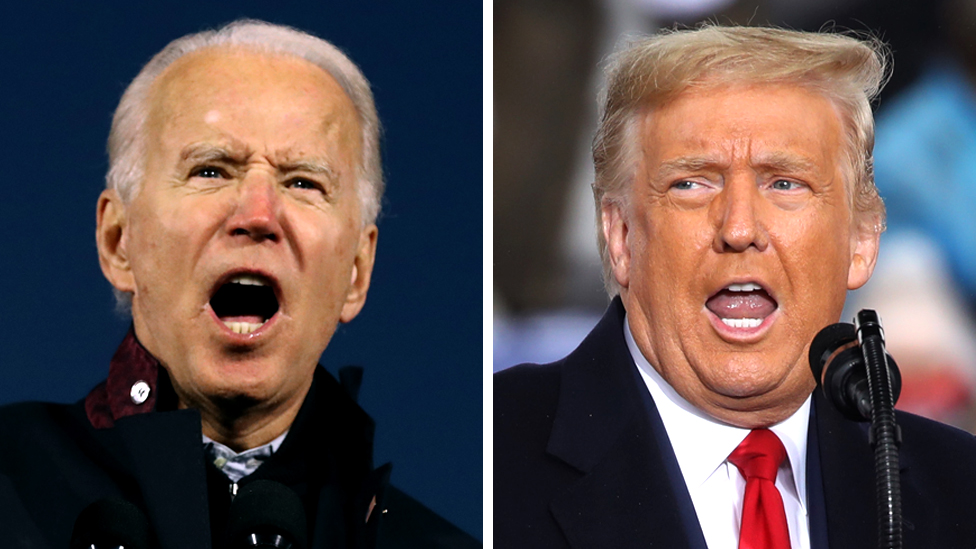 Zeiruangah dah asi timi zohtikah Mainstream media hna nih Donald Trump an haut tuk caah Trump dirhmun athatnak vialte hna cu pakhat te hmanh langhter le thanhnak tuah an duh lo ti i, a chiatnak lawngte hi mipi sinah an zamh tawn timi hmuh khawh asi. US thawngzamhnak ngan timi vialte chungah zakhat ah sawmkua hi Trump that lonak lawngte a langhter mi an si.
Donald Trump dirhmun athatnak konglam rel na duh asi ahcun Epoch Times siseh Justthenews siseh, Newsmax cun OANN hna nih an langhter mi pawl hi zohchih lengmang ahau. Tutan zongah Judge Patricia McCullough nih court nawl chuahmi konglam zong turleytalk.com ah alanghter. Amah hi thilsining biatak tein acuanmi le zumh atlakmi ngaingai mi asi tiah an chim.
Tutan zongah thawngpang thar alanghter mi cu Pennsylvania state legislature hna nih US constitution nih nawlngeihnak apek bantukin thimnak konglam ah hman dingmi Act 77 hi asi. Hi phunghram ah fiang tein thimnak kong alanghter mi cu thimnak tuahni november ni 3 zan suimilam pariat hnu ah ballot paper alut mi vialte hna cu rel ti lo ding tiah alanghter.
Sihmanhsehlaw thimnak tuah hnu nithum tiangah vote cu thong tampi relchih asi tiah an langhter. Tutan ah hi thil a vun si tikah phunghram ai kalhmi asi caah vote kongah zohtthan asi lai tiah an chim. Trump legal team hna nih US Supreme Court ah kalpi an timhnak aruang bik zong phunghram he aikalh mi asi caah tiah an i timhnak hi a si. Arauh hlan ah thawngpang thar a chuak chin lengmang ko lai hngakcio hna usih.
Thawngttha taktak relchih: Trump Caah Niceu Dawh. Pennsylvania ah teinak a hmuh cang. Trump hi thildik a dirpimi a si . Democratic cu sualnak a tanhmi an si ka ti zungzal. Vui za 100 in Trump president a si than lai ka ti zungzal. Cucu nannih a chuak, mimolh ah na ka ruah men lai, nain nan hmuh te lai caan nih a vun ratpi lio ka ti zungzal.
Nan nih a chuak Joe Biden cu President siding in minthatnak an ngei cang nan ti men lai, nain a tuh a si rih. Nihin thawngpang tha cu Pennsylvania ah Trump nih teinak a co cang. Vote a hmuhmi dihlak 252 a si cang. Tu tlawmpal ah state dang a vun lakthan rih lai. Cucu khuaruah har ding zeihmanh a um lailo. Pathian khuakhan a si cang lai.
Biapeh keimah hmuhnak California cu Trump nih a co lai. Ziah hrawkhrawl an tuahmi dihlak an tleih cang caah, phunghrampi nih bia a khua cang lai caah vote 55 cu Trump nih a colai a honihdah a chim keimah nih ka chim. Credit: Joseph TZT