Caan Saupi An Kawl Hnuah Nungak Esther Ruak Cu An Hmuh Cang Ee Ngaih A Chia Ko Mu
Magwe ramthen, Pakokku, University i sianginn a kaimi Chinnu Esther Cu Ayeyarwady tiva p ah ahawile he nuamhnak tuah in January 26 ah an kal hna i vanchiat ah cuti tiva pi ah cun a paam tiah theih a si. Nain caan saupi aruak an kawl hnuah an hmu lo.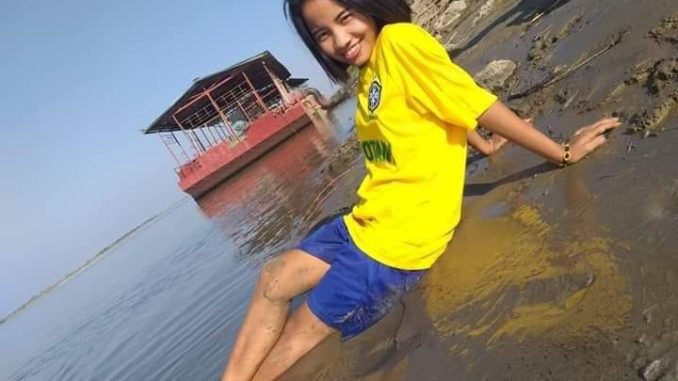 Esther cu caan suapi a ruak an kawl lengmang nain an rak hmu kho lo. Asinain cuti i caan saupi an kawl hnuah vanthat ah tuchun suimilam 2 ah a ruak cu an hmuh tiah theih a si lawmh a um ngaingai. Ether ruak cu ni 5 chungte bak an kawl nain an hmuh lo kho hrim lo.
Tuni ah lawng hmangin an kawl tthan i Nyaung Oo Peng, Sii Lung khua pawng Ayeryarwady tivapi ah Nungak Esther ruak cu lawng amawngmi hna nih an hmuh hi a si. Ti nih a rak fenh i tiva kam ah a ruak cu an hmuh. A ruak um cu nawncek lakah a si tikah harsa ngaiin a ruak cu an lak khawh hi a si. Nungak Esther hi kum 18 a si i Chin ramkulh mindat peng, Kunna khua i Pastor Lawng Huan fanu a si i Magwe Ramthen Akokku sianginn ah a kum 3 nak fimnak cawng liomi a si. Zalen
A thihnak konglam The Hakha Post nih attialmi rak rel chap. Breaking News: Pakokku ah University a kai liomi Chin nute Ayeyadawy tiva pi ah a pam. Mindat peng Kunna khua i Pastor Lawng Huan fanu Mai Esther cu a hawi le he Ayeyawady tiva ah tii an i kholh i tii ah a pam tiah kan theih.
Esther hi Pakokku University ah Botony Major in kum thumnak a cawng liomi asi. January 26 suimilam 4:00 pm, a hawi le nu pawl he Ayeyawady tiva pi ah ti kholh ah an kal i, ruah lo piin tii ah a pam. Atu tiang a ruak hmuh a si rih lo. Hi kong he pehtlai in a chung le sin ah pehtlaihnak The Hakha Post nih kan tuah nain phone an tlai lo. Photos/Esther Fb.