Bawmhnak Check Kuat Kongah Democrats An Lung A Let
Bawmhnak Check Kuat Kongah Democrats An Lung A Let. President Trump nih "US minung pakhat caah US$ 1200 le chungkhar minung 4 [ family of four ]caah bawmhnak check kuat dingah ready ka si nain, Democratic party hruaitu hna an duh than lo" tiah twitter ah a tial.
Democrats hruaitu, House speaker Nancy Pelosi, Senate minority leader Chuck Schumer le White house Chief of staff Mark Meadows le Treasury Secretary Steve Mnuchin hna cu White house ah nithum chung ceihhmainak an ngei nain kap hnih lungtlinnak an ngei kho lo.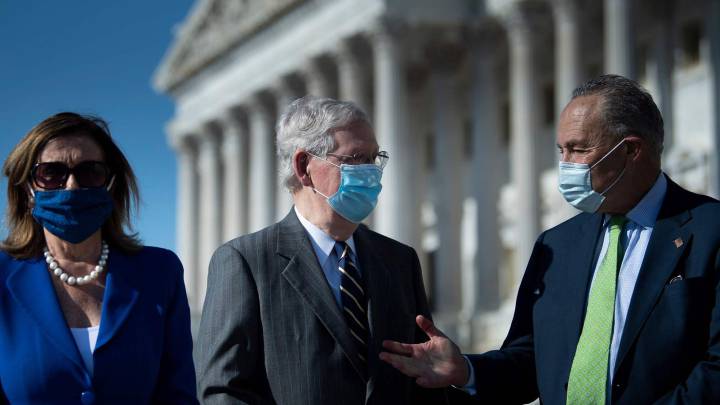 Democrats pawl nih coronavirus ruangah harnak a tongmi kong he a pehtlai lomi mirum pawl ngunkhuai tam deuh laaknak kong an chuahpi chih ruangah atu bantuk in lungtlinnak an ngeih khawh lomi a si" tiah senate Republican hruaitu McConell nih a chim. Asinain August thla 7 tiang khi Senate meeting a um rih lai caah mah hlan ah kap hnih hnatlaknak an ngei kho lai tiah zumh a si. Senate meting cu hmaizarh cacawn nikhat ni tiang an thawn caah mah karlak ah zeihmanh an tuah kho rih lai lo.
Pandemic Unemployment Assistance (PUA) Benefit $ 600. Federal cozah nih covid-19 ruangah rian a dinmi pawl cu state cozah nih pekmi unemployment benefit pin ah zarhkhat ah $600 an chapmi cu tuchun hi a donghnak ni a si. Democrats le Republican hruaitu hna kap hnih lungtlinnak an laak khawh lo caah President Donald Trump le Republican hruaitu hna nih caan karlak chung chap rih ding in bialu an chuahpi nain democrats pawl nih an duh hoi lo.
Republican pawl nih caan sau tuk $600 pek chap hi an duh ti lo, a ruang cu an thlahlawhnak nak in tam deuh a hmumi an um caah rian luh an duh ti lai lo ti an phang, Republican nih cun zarh khat ah $ 200-400 tiang hrawng lawng pek an duh. Cun State cozah nih umemployment benefit phung remh in state cozah nih tam deuh pek ding an duh. Asinain democrats nih cun atu ning in kum dongh tiang pek an duh, mah ruangah atu tiang bia an chah khawh lo caah thaizing in cun zarh khat ah $600 chapmi cu a dongh phot rih lai. Caṭialtu: Salai Lairamthang